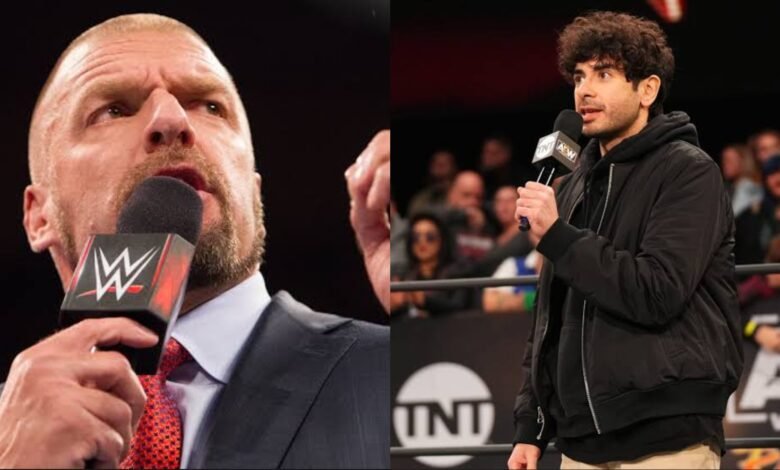 Tony Khan has been an absolute sensation in the wrestling world. From being a mega-fan in pro-wrestling to owning a company that has been a direct rival to the biggest company in entertainment wrestling, WWE. Khan's venture with AEW has been a story to remember for always.
Now that initial story for AEW is over, it is coming up in a new avatar and Tony Khan means ruthless business and he doesn't want AEW to be Impact Wrestling. He wants it to rock the world like WWE has been doing for years now.
Tony Khan is now making direct remarks at WWE superstars and legends, trying to grab all the attention. Now, the part of this kind of attention which is usually negative creates a lot of backlash and the ones trying to make this his weapon has to go through hell to ensure that the heads are being turned.
Here is what Tony Khan had to say about Shawn Michaels
In fact Tony Khan referred to Triple H and Shawn Michaels as bald assholes while also taking a direct dig at his booking in NXT. He also went overboard with Vince McMahon's controversies and even criticized John Cena and Undertaker for failing to attract 1 million viewers on the October 10th episode of NXT.
Tony Khan continued with his rant on WWE while making a counter that WWE fans are targeting him, In fact he also said that his mother was targeted with sick comments when she is recovering from life-threatening ailment. He also accused WWE of tampering with contracts.
Ringside News tried to reach out to WWE to get a remark and all they could get out of the official was that the company is least bothered about what Tony has to say. For them life moves on.
However, WWE believes that at the moment all those rants from Tony Khan is nothing but thin noise and it makes no sense to them. For Triple H and company, they have a big business to maintain and they are focused with that.