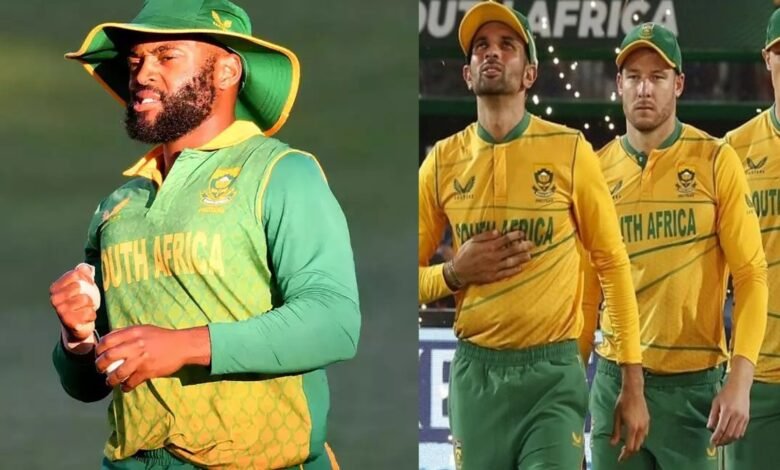 South Africa and India are currently involved in a three-match ODI series. The final game is happening in Delhi. South Africa is being captained by David Miller and he happens to be the third captain for the team in this tournament. Here, we take a look at how Twitter reacted as South Africa becomes the first team to have three different captains for a three-match ODI series.
South Africa use three different captains for the ODI series against India
Temba Bavuma is the captain of the South Africa limited-overs team. While he was a part of the first game, he had to be sidelined due to an injury before the second match. Keshav Maharaj stepped into Bavuma's shoes and led the side in Ranchi. However, the spinner has gotten sick and was therefore unavailable for the third match. South Africa then gave the captaincy duties to David Miller.
India, too, has experimented with its captaincy, but that happened between tournaments. In South Africa's case, there are three different skippers for three games within a series. Therefore, many were left surprised about the occurrence. South Africa will hope that the unfit cricketers will be fit by the time of the 2022 T20 World Cup.
A good experience for Proteas in India
South Africa has actually played a lot against India in recent months. While Proteas hosted the men in blue at the end of last year, South Africa toured India twice in 2022. This will surely help them in the future, especially for the 2023 ODI World Cup. The team is looking in good shape and will further improve by next year with the likes of Tristan Stubbs and Marco Jansen getting experience.
On the other hand, South Africa played three different captains in the ODI series against India. This led to various reactions on the internet. We take a look at a few of them below:
South Africa are the first team to have three different captains in a 3-match ODI series 😅

David Miller is the skipper today!

Follow #INDvSA live 👉 https://t.co/zbLsDgyEyK pic.twitter.com/AUo9UHup22

— ESPNcricinfo (@ESPNcricinfo) October 11, 2022
SA is least interested in playing this 3 match ODI series.

3 captains for 3 matches 🙂

They just want to finish it off and go to Aus. Who plays an ODI series 10 days before a T20 WC !! #INDvSA

— KedarHirve (@KedarHirve) October 11, 2022
3 matches 3 different captains.
Sa following India

— Underarm Quick (@Underarmbowler) October 11, 2022
South Africa played 3 different captains in 3 different matches. Is it the first time a team changing captains in every match ??

— Raja Sekhar Yadav (@cricketwithraju) October 11, 2022
India playing different captains in different series
Chad South Africa playing 3 different Captains in 3 matches

— Adarsh (@its_rajabhi) October 11, 2022
competing w india in another department too https://t.co/Lrz5TGxodk

— srish🧃 (@godsfavvchild) October 11, 2022
Indian water and unreal delhi pollution.

Poor guys are falling sick

— Professor samuel oak (@prof_oak123) October 11, 2022
🤔No KG or Maharaj… T20 world cup starts next week so I get it but we still have an ODI world cup to qualify for https://t.co/oijkPeSxvl

— songezo (@SongezoGoxo) October 11, 2022