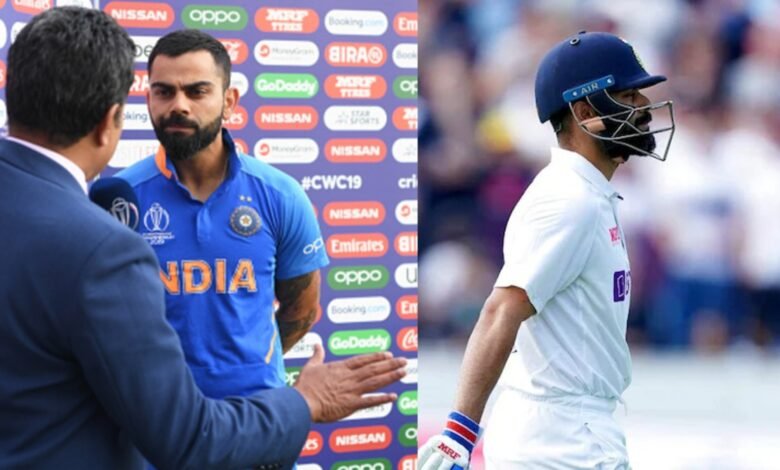 Although Team India has the series level at the moment, there are quite a few problems in the squad that needs to be addressed at the earliest. Virat Kohli's poor form is not seeing an end. Amidst this, commentator Sanjay Manjrekar has expressed that Virat Kohli should do what he did in 2018 and not in 2014. 
The Indian captain is struggling for runs
Coming into the England series, all eyes were on Virat Kohli. The Indian captain has not struck a century since November 2019. This gap is too long for a player of his stature. Having done well in England in 2018, many expected Virat to repeat the performances.
However, so far, the Indian skipper is struggling to get going. In five innings so far, Virat has made just 124 runs at a poor average of 24.80. The fact that all his dismissals have been to deliveries outside the off-stump is concerning both for Virat and India. The likes of James Anderson and Ollie Robinson have been benefited from the same.
Sanjay Manjrekar feels Virat Kohli should do what he did in 2018 and not in 2014 
When Virat Kohli toured England for the first time in 2014, he struggled to control moving out and hence, had to play at a lot of deliveries outside the off-stump. This led to his dismissal on most occasions. Cut to 2018, Virat improved his technique accordingly to leave deliveries on the off. This made him one of the best batsmen on that tour for India. In the ongoing series, Virat's struggles bear resemblance to his 2014 issues.
Talking about the same in his column on Hindustan Times, former cricketer Sanjay Manjrekar said, "Virat currently is grappling with his issue outside off, 2014 is coming back to haunt Virat and if he does not leave balls as he did in 2018, he is likely to be troubled the whole series." The fourth Test at Oval will start on September 2nd and one of the talking points of this game will yet again be Virat Kohli's form with the bat.