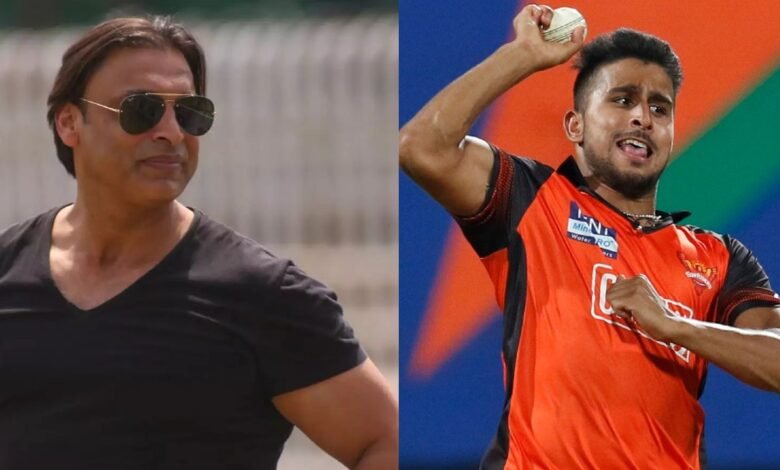 The legendary Pakistani fast bowler Shoaib Akhtar has said that he wants the young Indian sensation, Umran Malik, to break the record of the fastest delivery ever bowled in the game of cricket since the speedometer came into effect.
The record is currently held by Shoaib Akhtar himself who had bowled a delivery that clocked over 161 kmph during the 2003 ODI World Cup and the delivery was bowled to the former England batsman and current commentator Nick Knight.
Akhtar was in an exclusive conversation with Sportskeeda where he was asked about Umran Malik and the speeds that he is cranking up in the IPL at the moment.
Akhtar seemed very impressed with the young Indian prospect and said that it's great to see that Umran has not just clocked 150 kmph once or twice, he is bowling consistently at that speed and it's very rare. Not too many bowlers do that consistently.
Umran Malik should be careful about his fitness: Shoaib Akhtar
Shoaib Akhtar was, however, of the view that Umran Malik should be wary of his fitness as well. Fast bowlers generally have to look after their fitness anyway, but someone, who is bowling in the range of 150-155 kmph consistently, has to look after his fitness more sincerely.
Akhtar said that he wants Umran to break his record of the fastest delivery ever bowled, but he doesn't want Umran to break himself in order to break the record. Umran needs to keep himself in shape and he needs to replicate his IPL performances at the international level because he belongs to that level.
Akhtar has always been a fan of those fast bowlers who don't worry too much about line and length and just try to beat the batsman by sheer speed. Umran is exactly that type of bowler. So, it's not surprising that Akhtar is impressed with what he has seen in Umran. Now, it remains to be seen when Umran gets the opportunity to play international cricket.