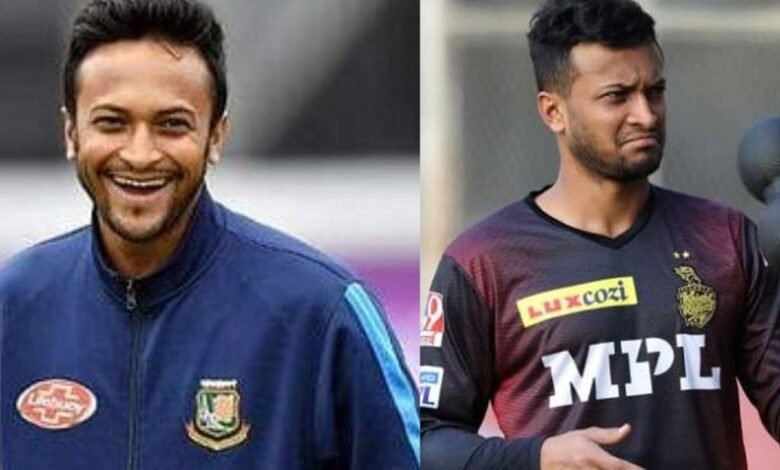 Shakib Al Hasan was not part of IPL 2022. There was concern about his availability and hence, teams did not take the risk. One of the best all-rounders in the game, Shakib has actually been less active in recent IPL campaigns. In a recent event, he spoke about it and also divulged his plans for the next season of the competition. On that note, here, we take a look as Bangladesh all-rounder Shakib Al Hasan reveals his plans for IPL 2023.
Shakib Al Hasan reveals his plans for IPL 2023
When asked if he was upset about not getting picked in the last auctions, the former Bangladesh skipper said, "Look there's less room for emotion as you can't consider everything with emotions. IPL is such a platform where players from all over the world want to play the tournament. Playing here (IPL) is always a great opportunity for the players and the experience you gain playing there is a big thing."
It was at an event in the USA that Shakib spoke about this. A few Bangladesh fans did not like their legend going unsold repeatedly at the auctions. However, the player said that he does not have such an opinion about IPL. He said that the tournament has helped him in the past. In fact, when questioned if he would take part in the next season if he gets picked, Shakib said, "Whether it's the IPL or CPL, it's very important and the amount of experience I gain eventually benefits Bangladesh cricket. Not just IPL there is no point to boycott any league."
Many teams could target the cricketer for IPL 2023
It has been mostly about his availability for Shakib Al Hasan in recent IPL campaigns. With him not part of the entire competition, teams did not take the risk of hiring him. However, with the addition of two new franchises, the all-rounder will surely be in demand for the next season.
While a team like Chennai Super Kings might see Shakib as an upgrade to Mitchell Santner, Shakib's former teams such as Kolkata Knight Riders and Sunrisers Hyderabad could also target him. Punjab Kings need a left-hander in the middle order and Shakib can fill that role. He also brings four overs of quality spin along with him. Therefore, there will be a demand for the cricketer if he is available for the entire edition.