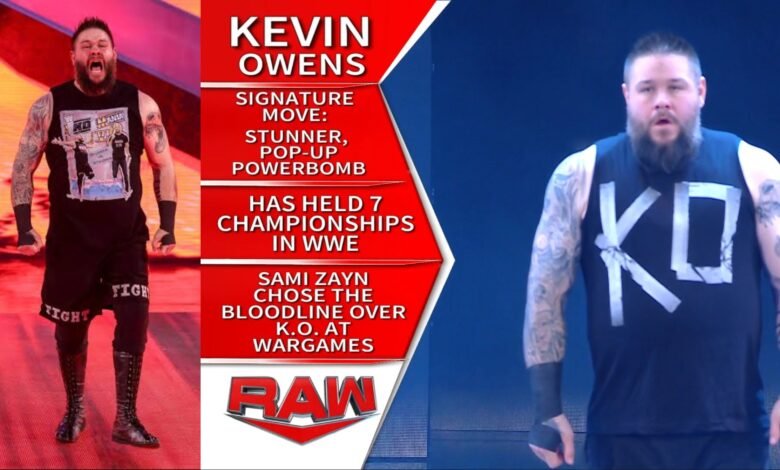 Kevin Owens is one of the most charismatic and gifted in-ring performers in the WWE. Despite never fitting the stature of a top WWE superstar, Owens has managed to rise above the odds on numerous occasions. However, a shocking Kevin Owens stat sent the entire WWE universe in shock, with the fans exploding on social media.
Kevin Owens began his professional wrestling career in 2000 when he was 16. He spent nearly 14 years on the independent circuit for various promotions.
In 2014, Kevin's dreams came true when he signed with the WWE. The Prizefighter adopted the Owens name as a tribute to one of his favorite superstars, Owen Hart. KO was assigned to WWE's developmental territory, NXT where he became one of the cornerstones of the brand. Owens reigned as their NXT champion and made his main-roster debut in 2015, defeating John Cena in his first-ever one-on-one match.
While many thought Owens would be lost in the shuffle, Kevin proved otherwise. He continued to mesmerize the WWE Universe with his amazing performances.
Furthermore, in his 8-year stint, Owens managed to capture 3 United States, 2 Intercontinental, 1 NXT and Universal titles. He even achieved the pinnacle of sports-entertainment earlier this year. Kevin Owens added a WrestleMania main-event to his resume, battling his long-time hero Stone Cold Steve Austin in a mega showdown.
How long it has been since Kevin Owens won his last title?
Despite such a phenomenal and success run in the WWE, Owens became a target of title drought recently. A fan pointed out on Twitter that Kevin Owens has not won any WWE championships since 2017. The time Owens won a championship was the WWE United States title from AJ Styles at WWE Battleground. Owens captured the WrestleMania main event this year, but it has been 5 long years since KO tasted championship gold.
KO's title drought forced the entire WWE Universe to go berserk on social media.
How could he didn't win any championship since 2017

— conan_kun (@conanedogawa316) November 29, 2022
Vince mate.
Vince.
that's why.

And if you watched what happened backstage after Wrestlemania 33 in 2017 with his match against Chris Jericho, Vince hated the match and Kevin, thus burying him in the process and getting nowhere in the company.

— Aaron Lambert (@lambo_90_) November 29, 2022
KO literally main evented the last mania with Stone Cold Steve Austin come on now

— CZAR SUPREMACY 👁🐉 (@DragunovReigns) November 29, 2022
He had the U.S title in 2018 when he was feuding with AJ styles.

— TysonMane (@KefKa351) November 29, 2022
Actually Kevin owens has only won 4 titles in wwe just because you have multiple Reigns with some of those titles dosen't make it a whole new title

— WrestlingCAWS (@Wrestling_CAWS) November 29, 2022
Hunter make it happen pic.twitter.com/jjnCvNrwd8

— 🐺(Joker Nick)🐺 (@Grimmjow29th) November 29, 2022
KO deserves a belt

— Julie Harrison (@Jujubean112115) November 29, 2022