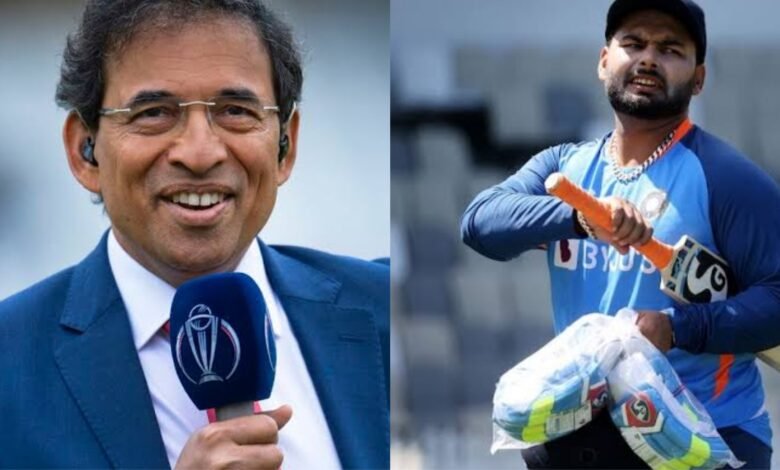 Indian wicketkeeper batter Rishabh Pant lost his cool when he was asked by commentator Harsha Bhogle compared him with Virender Sehwag and said that similar to the opener his Test record is better than the white-ball record.
"Records are just numbers. My white-ball record is not bad either," Rishabh Pant's reply to Harsha Bhogle on comparison of his numbers in Test and limited overs
Rishabh Pant has become the centre of attraction for his poor performances of late in white-ball cricket. Rated as a 'generational talent', the keeper batter hasn't done justice to his reputation in T20Is even after playing more than 60 games.
Clouds are really hovering over the place of Rishabh Pant in the Indian team. His continuous failures in the T20Is have put his place under scanner even in the ODIs despite having a good record in the 50-over format. The keeper batter was India's first-choice player in all three formats but of late nothing has been going his way.
With Sanju Samson also in the side, many have started to lash out at Pant for blocking his way. They feel that the southpaw is a burden for Team as his performances are not up to the mark and it is because of him Samson has been sidelined.
The ongoing New Zealand tour is making Pant a villain from the hero. He was given the opportunity to open the innings in the T20I series. But he failed to grab the spot as he bagged failures in both matches. The same story continued in the ODI series as well as he looked scratchy and gave away his wickets for low totals in two games.
Ahead of the third ODI against New Zealand, Pant was interviewed by Harsha Bhogle. The commentator highlighted his Test and white-ball record, saying that given how his reputation is, the keeper batter should have a superior record in white-ball games.
"I had asked the same question to Sehwag, now I'll ask you. Looking at you, we get the feeling that white-ball cricket is your USP but it's your Test record that is better…,: Harsha Bhogle asked
Replying to this, Pant lost his cool and said that "Sir, records are just numbers. My white-ball record is not bad either…" 
Bhogle then intervened saying "I'm not saying it's bad, I'm comparing it with the Test numbers,"
But Pant was furious and said that there's no need for comparison and it would be fair to compare when he's in his 30s not at his stage.
Here's the video:
Rishabh Pant got offended when harsha asked him about his form says"yes my T20I numbers are not great but I'm still 24 and there's no time to compare" the confidence shows how strongly he is backed.
Video credit: @PrimeVideo pic.twitter.com/X6xkxeOZOK

— SAMSONITE💭 (@thesuperroyal) November 30, 2022
Rishabh Pant bags failure in third OD against New Zealand
After his furious interview, Pant then found himself in the middle. It was another disappointing outing for him as he scored 10 runs in 16 balls. He had a golden opportunity to regain his form as he came into the middle in the 13th over.
But he threw his wicket away as tried to play the pull shot and miscued it to a deep square leg. Be tried to get on top of the bounce which he couldn't and saw himself back in the hut for just 10 runs to end his dreadful tour on a disappointing note.