The relationship of MS Dhoni and Suresh Raina has been a subject of much discussion recently after the left-hander decided to leave the CSK squad before the start of IPL 2020.
While both CSK and Raina didn't reveal the actual reason and it was said that the player withdrew because of personal issues, a few reports in the media suggested Raina was not happy about the fact that he was not given a special room in the team hotel like the CSK skipper MS Dhoni.
Once Raina decided to pull out of IPL 2020, the CSK owner N Srinivasan had a bit of an outburst as he said Raina would regret his decision later since he was going to lose a lot of money for not playing in the tournament.
Raina, thereafter, tried to pacify the matter as he said N Srinivasan was like a father figure to him and his outburst might have been the result of the fact that he didn't know the actual reason why he left.
Suresh Raina had earlier also stated he had no problems with Dhoni
Raina also said there were no problems between him and the franchise or between him and the franchise skipper MS Dhoni. However, the speculations didn't stop there and the fact that CSK removed Raina's name from the squad section of their official website only added fuel to the fire.
However, now Raina has hinted that his relationship with Dhoni is still healthy as he recently liked a picture uploaded by a fan-page where Dhoni and Raina could be seen sitting together and having a bit of a laugh.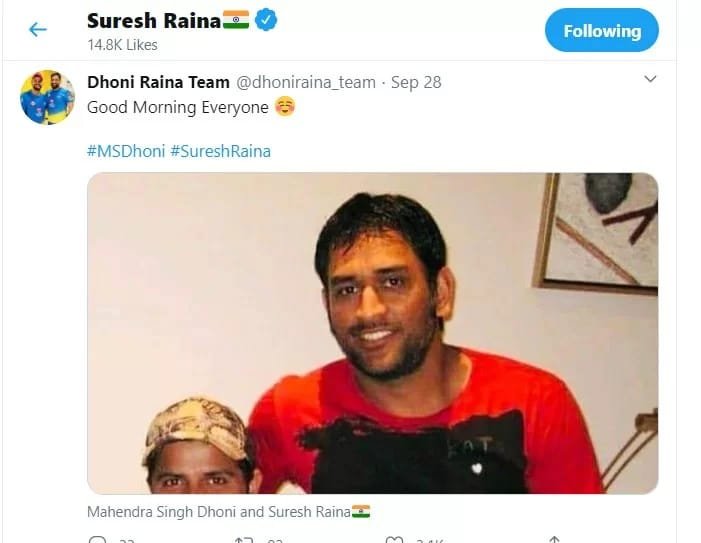 This is the first time that there have been speculations about the friendship of Dhoni and Raina. The two have been such close friends for more than a decade and have achieved some great things together on the field for CSK which include 3 IPL titles and 2 Champions League titles.
Raina, ahead of this season, had actually played more games for CSK than Dhoni and is currently the all-time highest run-scorer for the men in yellow as well.