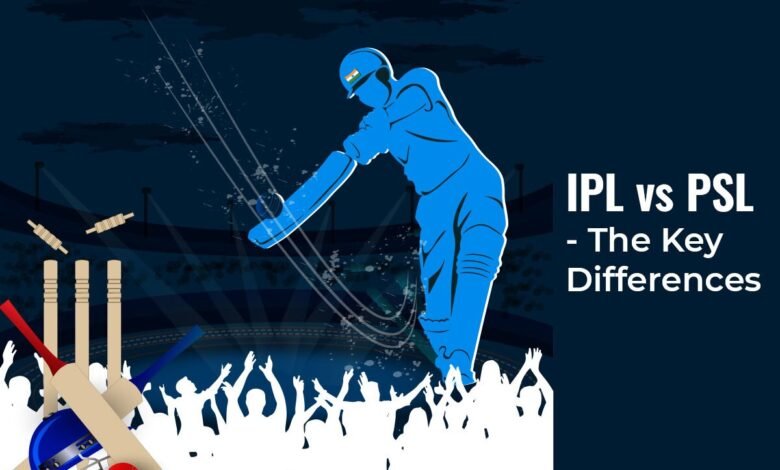 When the Indian Premier League's inaugural edition commenced in 2008, it led to an outburst in the popularity of domestic cricket all around the globe. Although many T20 domestic tournaments existed before, such as the Big Bash League, no one was as successful in making domestic cricket as popular as the IPL. Moreover, it also enhanced the popularity of fantasy cricket games. Currently, there are multiple new fantasy cricket app that allow individuals to create virtual IPL teams and predict the outcomes of IPL matches.
Many other countries took inspiration from the IPL's business and entertainment model and decided to host their own version of the popular tournament. A fine example is the PSL or Pakistan Premier League. The IPL and PSL have numerous similarities, including star team owners, extravagant pre and post-match events, etc. However, there are multiple differences between the two as well.
In this article, will will look at the major differences between the Indian Premier League and the Pakistan Super League based on different important parameters. Let us dive right into it:
Tournament Format
Like every other official cricket tournament, IPL and PSL follow a specific format. However, the formats of both differ from each other. Here is a brief look at both their formats:
IPL – The Indian Premier League follows a round-robin format. This format involves dividing participating teams into multiple schedules or smaller batches. Every team has to play against all other participating teams once. Followed by the group stage matches are the playoffs and, finally, the final match.
PSL – The Pakistan Super League follows a double round-robin format, meaning that each participating team has to play all other teams twice. Followed by this, the teams who make it to the playoffs face off against other teams. Then, the two teams who emerge victorious in the playoffs compete against each other to win the prestigious title.
Squad or Roster Rules
Both tournaments' teams need to keep specific rules in mind regarding the number of players in their respective squads or rosters, which includes the number of foreign or overseas players that can be part of the playing XI. Here is how the squad rules of IPL and PSL differ from each other:
IPL – In the Indian Premier League, franchises or participating teams are allowed to have a maximum of 8 foreign players in their 25-man squad. In no case can any team add more than eight international players to their final squad.
PSL – Unlike the 8 foreign players limit of IPL, PSL teams can only purchase four international players in their 20-man squad. This rule makes it harder for PSL teams to strike a balance between local and international players.
Prize Pool
Besides the fame and recognition winning an IPL trophy brings, the main motivating factor that compels every participating team to emerge victorious is the prize pool. Both IPL and PSL offer massive prize money to winners. However, the amounts differ from each other by quite a significant margin. Here is a brief look:
IPL – The prize pool for this year's IPL is approximately INR 46.5 crores. The tournament winner will get INR 20 crores, whereas the runners-up will go home with INR 13 crores.
PSL – The prize pool of the 2023 edition of PSL was approximately $630,000 or 52 lakhs INR. The winning team, i.e., Lahore Qalandars, won around $450,000 or 37 lakhs, whereas the runners-up, i.e., Multan Sultans, went home with $180,000 or 15 lakhs INR approximately.
Media Rights
To officially broadcast or telecast tournament matches on their respective TV channels or OTT platforms, companies need to acquire media rights by placing and winning bids. Here is a look at how much the media rights of IPL and PSL cost:
 IPL – IPL's media rights for the next five years were sold to multiple companies at a staggering amount of $2.55 billion or Rs. 48,0900 crores.
 PSL – PSL's media rights for the next three years were sold to multiple companies at an amount of $36 million or Rs. 295 crores.
Sponsorships
Sponsorships play a crucial role in cricket nowadays. Major companies and organizations chase tournament organizers and participating teams to sponsor them. This benefits both the investor and the investees. Both IPL and PSL teams have multiple sponsors. However, they vary significantly from each other. Here is a brief look at both:
IPL – IPL receives sponsorships from major global brands, which include renowned names like TATA, DHL, IDFC Bank, Coca Cola, Garnier, etc.
PSL – Although PSL also has many sponsors, the names are not as major as those offering IPL sponsorships. The list of sponsors includes local names like HBL or Habib Bank Limited, Blitz International, Jubilee Life Insurance, Brighto Paints, etc.
Final Thoughts:
No other domestic T20 tournament comes close to the Indian Premier League in any aspect. In terms of comparison between the Indian Premier League and the Pakistan Super League, it is evident from the points mentioned above that the former surpasses the latter in almost every aspect. However, despite being very different in numerous aspects, both tournaments have managed to establish themselves as renowned cricket events throughout the globe.
Moreover, both offer cricket fans the opportunity to witness top-tier players battle it out on the field by displaying exceptional batting, bowling, and fielding skills. Hence, at the end of the day, irrespective of which tournament is more popular or big in scale, both promote cricket and contribute to the sport's popularity globally.