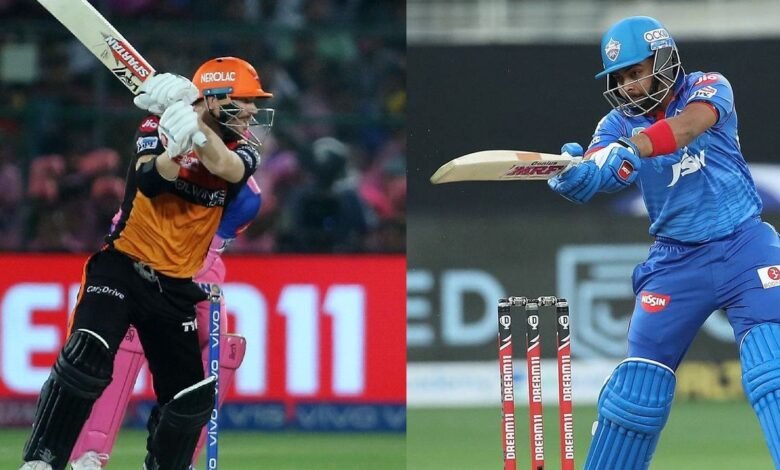 Ever since the concept of powerplay was introduced, different teams have preferred different approaches in that phase. In the IPL, some teams like keeping wickets on hand at the end of the powerplay while others go gung-ho in their approach. As T-20s evolved, it became clearer than ever that batsmen have to maximize the first six overs by scoring quickly. In this article, we will look at five batsmen with the best strike rate in the powerplay, considering only the Indian Premier League.
Note:- Only batsmen who have faced a minimum of 500 balls in the powerplay have been considered for the purpose of this article.
#5 David Warner – 136.20
One of IPL's most prolific batsmen, Warner was initially known for his aggressive batting in the powerplay. But with time, he became more nuanced with his approach, giving up recklessness for consistency. In the IPL, Warner has scored 2652 runs in the powerplay. Only Shikhar Dhawan has scored more runs inside the first six overs in the IPL. He is also second in the list of most sixes scored in the powerplay, behind Chris Gayle.
#4 Chris Lynn – 143.68
It is a pity that Lynn has been warming the bench for the past two seasons despite an excellent IPL record. Gifted with a brute of a bottom hand, Lynn was a lynchpin for KKR from 2017 to 2019. He has 770 runs in the powerplay and has hit 35 sixes and 99 fours.
Overall in his IPL career, Lynn averages 34.08 and strikes at 140.63. Lynn's most explosive innings to date came against Gujarat Lions in 2017 when scored 93 runs off 41 balls. Lynn deserves to be a starter in the IPL and he could find a potential suitor in the upcoming mega auction.
#3 Virender Sehwag – 143.85
Sehwag was one of the most destructive batters of his generation, a man beloved by fans for his no-nonsense approach to the game. Sehwag always took advantage of field restrictions in the powerplay to get his team to a fast start.
He has 2728 runs in his overall IPL career at a strike rate of 155. In the powerplay, he has 1568 runs, including 44 sixes and 229 fours. Although he did not possess much feet movement, Sehwag's hand-eye coordination enabled him to play shots all across the pitch.
#2 Prithvi Shaw – 144.76
Shaw is the modern-day incarnation of Sehwag, a pocket-sized dynamite who has made it a habit to provide blistering starts. In IPL history, Shaw has the second-best strike rate in the powerplay despite being just 21 years old. 802 of his 1155 IPL career runs have come in the powerplay which clearly shows his prowess inside the first six overs.
Shaw has hit 110 fours and 24 sixes in the powerplay. He is only going to get better with age, which is scary for the bowlers. His off-side game is particularly excellent, which enables him to hit even good balls for boundaries.
#1 Jos Buttler – 147.61
Topping the list of IPL batsmen with the best strike rate in the powerplay is Jos Buttler. He started his career as a finisher, but has blossomed as an opener in recent years. Buttler averages 40 and strikes at 156 as an opener in the IPL. In the powerplay, Buttler has scored 837 runs, including 33 sixes and 113 fours.
Buttler feeds on fast bowlers and has a 360 degree game against them. He literally has two shots for every ball, a quality that very few batsmen in the world possess. All these factors make him the most difficult batsman to bowl to in the first six overs of a T-20 game.