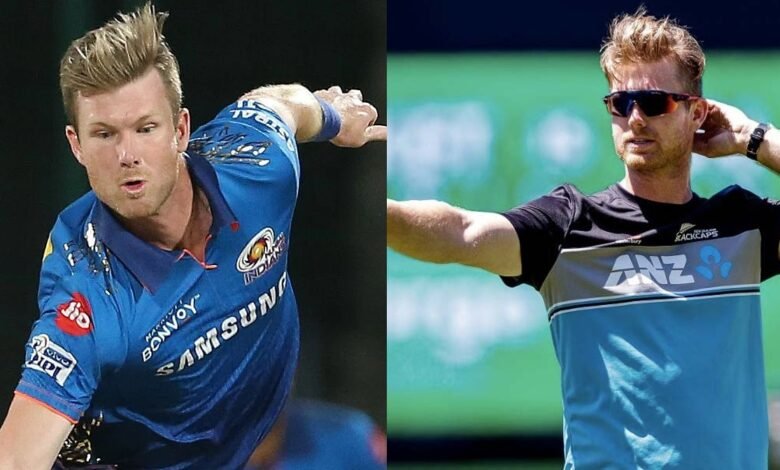 James Neesham is one of the top all-rounders in world cricket at the moment. The left-handed batter has made a name for himself with his big-hitting skills. He has also scalped wickets at regular intervals for his teams besides taking some magnificent catches in the field.
Apart from his all-round brilliance, Neesham is also famous for his social media activity. His witty replies on Twitter have earned him a massive fan following on the micro-blogging platform. Neesham recently shared his views on a new rule for IPL 2022.
Considering the recent suggestions from the MCC, the BCCI has updated the rules for the upcoming Indian Premier League season. One of the rules that the BCCI has changed is related to the batters.
Often, fans would have seen00 that the batters change strike when the ball is in the air, and when the catch is taken, the batters are considered to have crossed. The new batter goes to the non-striker's end in that situation. But as per the new rule, the new batter will take the strike now.
"Upon a catch dismissal, irrespective of whether the batsmen have crossed or not the incoming batsman will take the strike, except if it's the last ball of the over," the BCCI informed the franchises.
James Neesham does not understand the meaning behind the rule; Twitter reacts
Neesham, who will turn up for the Rajasthan Royals, in the 2022 edition of the Indian Premier League, soon quoted a tweet of the link that stated the new rules. He felt there was no need for the new rule related to the change of strike.
"I don't really understand the point of this. Has this rule ever been a problem?" wrote Neesham before adding that he did not like the new rule.
Here's how fans on Twitter reacted after seeing Neesham's comment:
I don't really understand the point of this. Has this rule ever been a problem? Also rewards batsmen who don't stay aware of the match situation.

Don't like it. https://t.co/6yPsHjFNSk

— Jimmy Neesham (@JimmyNeesh) March 16, 2022
But bowlers need an advantage right for taking a wicket as well if you look from their side.

— Johns. (@CricCrazyJohns) March 16, 2022
Yes ..This will kill one of the strategic thinking from the game…Many times players deliberately throw wickets to give better batsmen the strike… All these new stupid rule changes are making cricket a game of AI robots !!

— just_for_fun (@just99920725) March 16, 2022
A bowling side shouldn't be disadvantaged for taking a wicket in the first place.

— Nadun Gunarathne (@NadunGunarathne) March 16, 2022
You are a bowler too, won't you like to be rewarded to bowl at new batsman at death overs rather than the set guy from non striker?

It is a step in right direction.

— A-Man (@ratedAMAN) March 16, 2022
The bowler deserves to bowl to a new batter after getting a wicket as a reward

— Harry (@Harrythegreeaat) March 16, 2022
Because a wicket is not a reward in and of itself? What about runouts,? Why shouldn't they just have the new batsmen on strike? What about people who get bowled on the last ball of an over?

— James Wallace (@TheLastStem) March 16, 2022
Same thoughts

That was unnecessary

They did not changed the main thing which should have been

Batsmen should be given out if the ball hits the stumps no matter whether the bails fell or not

— Ashutosh Mittal (@IAshutoshMittal) March 16, 2022
I 100% agree with you, there was no need to change this but some commentators recently kept saying during the matches that this rule needs to be change because it's unfair with bowlers.
I just want to ask had any bowler complained about this rule?

— Ali Mehdi (@descnt_ali) March 16, 2022
Seriously, adds some excitement too thinking whether batters have crossed or not. Now, that's gone.
What about the rule that makes the ball dead after the umpire rules the batter out?

— Vikk (@ItsMrPandey) March 16, 2022
I could never understand the existing rule in the first place. They are not going to get a run if they crossed. Why make it so complicated? Keep it simple..batter replaces the person who got out at the same end. Why should it matter if they crossed or not.

— The man with many names (@Ram_Raviprolu) March 16, 2022