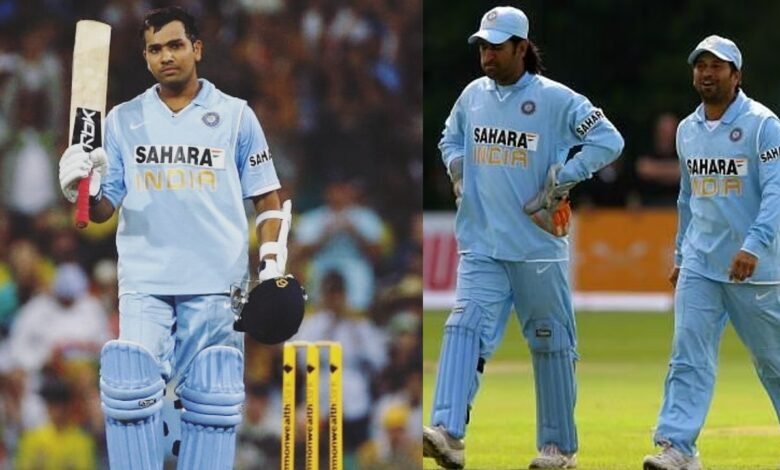 India has played very few ODIs against Ireland. It is one of these games at Belfast that Rohit Sharma made his ODI debut in 2007. In a few months, he also got his chance in T20Is. While he took time to take off, after finding groove as an opener, Rohit hit his peak self. Currently, he is the skipper of Team India and will also lead the squad in 2023 ODI World Cup. On that note, here, we take a look at India's playing XI when Rohit Sharma made his ODI Debut.
Openers: Sourav Ganguly and Sachin Tendulkar
It was the popular Sourav Ganguly and Sachin Tendulkar who opened the batting in India's playing XI when Rohit Sharma made his ODI Debut. India had a fine era when Sachin and Sourav opened the batting for the men in blue. While the right-left combination complemented the pair, the approach of these cricketers also helped India win a lot of games. Interestingly, combined together, the duo bowled 10 overs in this match.
Middle-Order: Gautam Gambhir, Rahul Dravid (C), Yuvraj Singh, Dinesh Karthik (WK) and Rohit Sharma
While Gautam Gambhir batted at No.3, Rahul Dravid operated at No.4. The current Indian Coach was the skipper of the squad. Yuvraj Singh had already established a name for himself and was an important player in the middle-order. Opportunities for Dinesh Karthik were scattered and this is one of the games where he got a chance. Rohit Sharma was a part of this game but did not get a chance to bat.
Bowlers: Ajit Agarkar, RP Singh, Piyush Chawla and S Sreesanth
It was a relatively new bowling attack for India's playing XI when Rohit Sharma made his ODI Debut. Ajit Agarkar was the only cricketer who had some experience in this attack. RP Singh and S Sreesanth had some experience and had already shown their top skills. Hence, they were a part of this team. On the other hand, Piyush Chawla was a teenager and was being groomed to take care of the spin duties for the team.