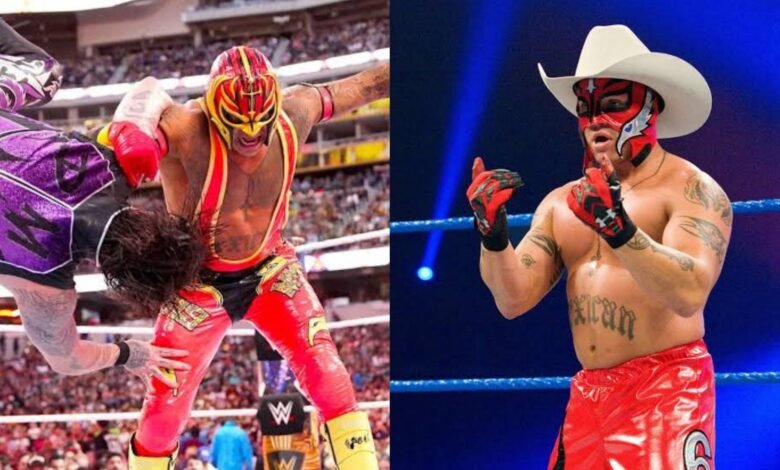 Professional wrestling has long been a stage for dramatic turns of loyalty and unexpected betrayals. Within this dynamic realm, WWE Hall of Famer Rey Mysterio has faced more than his fair share of heartbreak, with former allies like Santos Escobar, his own son Dominik, and even Batista turning against him.
Amidst this backdrop of shifting alliances and fleeting trust, a fresh face has entered the scene with a promise of unwavering support. Dragon Lee, a notable talent in the wrestling world, recently took to Twitter on November 12 to convey a powerful message to Rey Mysterio – he is not one to betray.
Dragon Lee posted a tweet for Rey Mysterio
In a poignant tweet, Dragon Lee shared before-and-after pictures depicting Mysterio's history of alliances gone awry. The message was clear: unlike those who had previously turned their backs on Mysterio, Dragon Lee was pledging steadfast allegiance.
I'm not like them .. siempre cuentas conmigo @reymysterio pic.twitter.com/yuLBsvQOhE

— Dragon Lee ドラゴンリー (@dragonlee95) November 12, 2023
After meeting several times in the WWE universe, Dragon Lee and Mysterio have made this public statement. Their encounters, which ranged from a SmackDown Exclusive to a WWE NXT title fight, highlighted the difficulties in building trust in the professional wrestling industry.
One of my fav matches of Zelina just because she got to tag with Rey Mysterio and that too in Puerto Rico. A very special match. 🇨🇺💙

✨@ZelinaVegaWWE @reymysterio ✨#SmackDown pic.twitter.com/sgESfetER4

— Jugs Fullbuster (@JugsFullbuster) November 17, 2023
In response, Rey Mysterio has voiced his appreciation for Dragon Lee and predicted that the WWE's up-and-coming talent will have a bright future. Dragon Lee's oath of allegiance is a monument to the complex alliances and relationships that define the capricious world of sports entertainment as the story of the wrestling universe develops.
Watch Dragon Lee as he makes his way through WWE SmackDown and Rey Mysterio as he struggles to keep alliances in the ever-changing professional wrestling scene. Dragon Lee's assurances add even another level of complexity to the continuing drama within the squared circle in a society where trust is a rare commodity.
With the North American Championship on the line, fans everywhere are excited for the moment when Lucha Libre's future will be revealed.