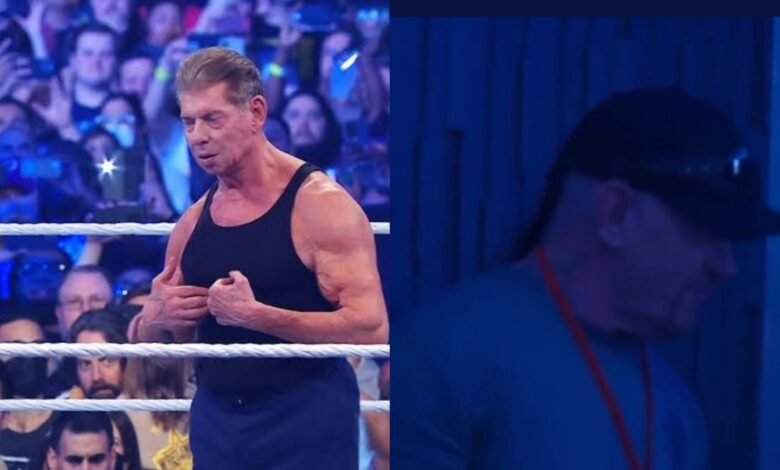 WWE has released rare footage of the Undertaker roasting Vince McMahon after his botched move in his match against Pat McAfee in the WrestleMania 38, an event that rocked the world for its own majestic stature.
In an impromptu match-up between Vince McMahon and Pat McAfee, the former secured the bragging rights within just 4 minutes of the game. Following the match, WWE Executive Chairman, Vince was to receive a stunner from Stone Cold Steve Austin. Unfortunately, he lost his balance, and the move looked all sorts of odd. The moment was one of the most memorable ones from the preceding year's WrestleMania.
Here is what Undertaker had to say to Vince McMahon
In a new WWE 24 Documentary, The Undertaker was shown joking around with Vince in behind the scenes after the match, pulling his leg for slipping exactly before the Texas Rattle Snake would go forth for his move.
Taker said, "You could have just quit when you took your shirt off," The Undertaker said. "It was right off the cliff after that."
McMahon who was sitting alongside Triple H and creative team member, Bruce Pritchard, laughed away at the Hall of Famer's comments. He also replied, "I lost my shoes." Undertaker responded by saying, "I wish you'd have lost your way to the ring!"
A couple of nights ago, McMahon inducted The Phenom into the WWE Hall of Fame. Taker did not appear on stage on Wrestlemania 38 but when the others were inducted, Mark Calloway did appear on the one of the biggest shows in the antiquity of Entertainment Wrestling.
Both Undertaker and Vince are very good friends, considering the long-standing relationship that they have. The Taker has been battling for ages now and undoubtedly has earned the rights to joke around with McMahon despite everyone abhorring the big man away from the ring.