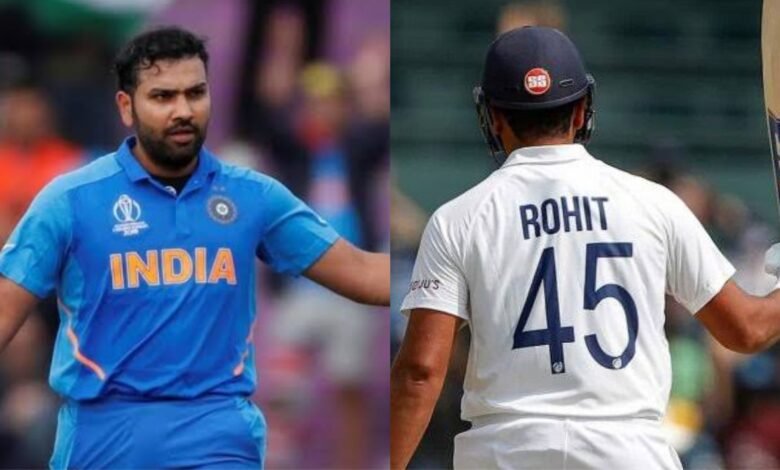 Rohit Sharma is someone who has regularly worn jersey no. 45 since he made his way to international cricket and started playing for India at the senior level. There have often been questions asked to him both by the media and the fans why he picked that number for himself and why he didn't go for any other number.
In one of his interactions with the media a couple of years ago, Rohit Sharma had said that he was actually not sure what jersey number he should wear when he was first selected in the national squad to play for India. He was given the options of a few jersey numbers and he asked his mother to pick a jersey number for him because he himself couldn't come to a decision.
According to Rohit, his mother told him that he should go for jersey no. 45 as she felt that 45 was a number which would prove to be a lucky number for Rohit.
https://twitter.com/SidharthshuklaC/status/1539100256868130822?t=l2k-N7swQluQFhTJvB2WuA&s=19
Rohit Sharma initially struggled for consistency, but number 45 eventually proved lucky for him
While Rohit Sharma struggled to make the most of his talent in the first few years of his international career, the number 45 eventually proved to be very lucky for him, as not only he found his feet as a batsman at the international level and scored a lot of runs for India, he also won 5 trophies as a captain for Mumbai Indians in the IPL.
Rohit's career has progressed so fast in the last few years that he has now established himself as a test match batsman for India as well, a format in which he struggled for consistency for a long time. The 35-year is now India's captain in all three formats of the game and is likely to lead India in the next two World tournaments, which are T20 World Cup of 2022 and ODI World Cup of 2023.
I am happy for the jersey no 45.
Rohit Sharma appointed as a test captain also now he is the full time captain of India in all format..

A senior member of the team became a captain he came a long way 🔥❤️@ImRo45 congratulation #RohitSharma #Captain #test #TeamIndia #tests pic.twitter.com/Fg5IN1cds6

— Rajat Narayan Singh (@RajatNarayanSi5) February 19, 2022