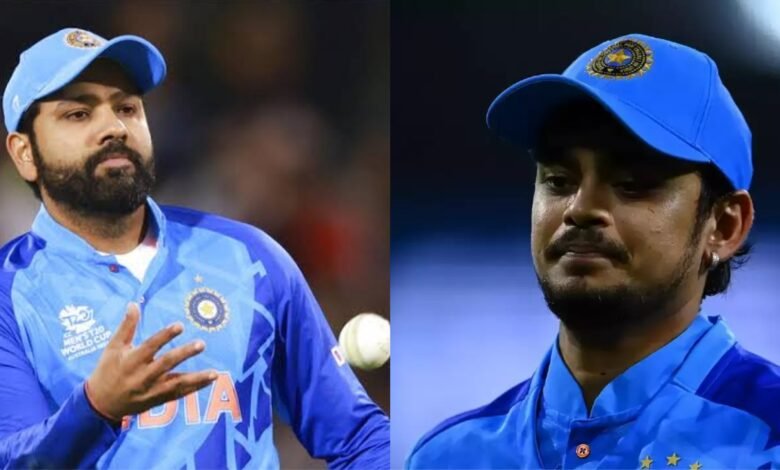 Fans on Twitter react as Indian Cricket Team didn't play Ishan Kishan in the dead rubber third ODI against Sri Lanka. They lashed out at the management for not giving him a chance after his double hundred and said that they should give their reserve player a chance on dead rubbers.
Ishan Kishan yet again fails to make cut the Indian XI for third ODI 
India is currently taking on Sri Lanka in the dead rubber third ODI at Thiruvananthapuram. The Rohit Sharma-led side won the toss and decided to bat first. The hosts made two changes to the team bringing in Suryakumar Yadav and Washington Sundar in place of Hardik Pandya and Umran Malik, who have been rested.
It was expected that Kishan would be given a chance in the game, considering the dead rubber and KL Rahul not being part of the team for the next series. But this wasn't the case as he yet again warmed the bench. The southpaw smashed a double century in the last ODI he played. He scored 212 runs and helped India win the game. However, despite him scoring a double ton, Shubman Gill was preferred over him.
Gill, notably, also has been scoring runs consistently at the top of the order. In the pre-match conference ahead of the series, skipper Rohit confirmed that they will give the right-hander a fair run to him for his performances.
While many were happy with the decision, they expected team management to adjust Ishan in some way in the team as he smashed a double century. Many wanted him to bat in the middle. But this wasn't the case as KL Rahul has been preferred over him as the first-choice keeper.
Fans on Twitter react as Ishan Kishan fails to make the cut for the third ODI against Sri Lanka 
As Ishan Kishan fails to make the cut for the third ODI against Sri Lanka, fans on Twitter reacted to it. They were not happy with the decision and lashed out at team management for not giving him chance in the dead rubber. Here are some of the reactions:
Ishan Kishan hit 200 in odi just to warm bench and give chances to surya kumar yadav and kl rahul @BCCI @ishankishan51 @bhogleharsha @cricketaakash @IrfanPathan #BCCISelectionCommittee #toxicbcci

— Md Asif Ali (@MdAsifA32987578) January 15, 2023
An Ishan Kishan-like innings, probably a double-century, might see Rohit dropping Gill from the playing XI next match!

— Gopu Rajasekar A (@GopuRajasekarA1) January 15, 2023
Ishan kishan ko drop karwa du Kuldeep yadav ko drop karwa do even after being MOM but iss statpadder ko har match khilao 10 me se ek match toh hum log bhi khel lenge

— Mahesh Sharma (@Maheshksharma23) January 15, 2023
Why Ishan Kishan not in the team

— Cricket Freak (@Cricket_Freak_T) January 15, 2023
No place for double centurian Ishan Kishan, in a dead rubber odi even… 😳
Giving opportunity to youngsters will definitely make selection woes in future.. Play safe 😂😂#INDvSL#BCCISelectionCommittee@bhogleharsha

— aromalgopi (@go4aromal) January 15, 2023
KL Rahul kya kar raha hai Team mein ?? Why not ishan kishan

— Mukesh (@hindu_rashtra21) January 15, 2023
He won't be fit by the World Cup. Ishan Kishan should play in the World Cup but it won't happen. Kl Rahul will keep statpadding in bilaterals

— Bob (@Bob9282838382) January 15, 2023
#IshanKishan Again on Bench 🙄#IndvSL

— Subodh Agarwal🏏 (@SubodhAgarwal1) January 15, 2023
#whynotIshankishan Why Ishan Kishan is not given chance to play in One day even after hitting double century against Bangladesh. K L Rahul is being given chance even after his continuous failure. Best Players should be given chance to play. There is some strong backing behind KL

— M K SINGH (@MITHILE92579474) January 15, 2023
#India should have try @ishankishan51 in place of @klrahul

— Md Intekhab Alam (@rajanintekhab) January 15, 2023
Ishan Kishan should have had a go in the 3rd ODI. His last odi score is 210 and in a dead rubber like this, before the world cup, You need to give your reserve player some game time.

Poor move by Team Think Tank.

— Mottakin Anik (@aguerooooooo16) January 15, 2023
You need to be an X factor player if you want to jump the queue. Like Umran Malik, SKY, Jagadeesan, Prithvi Shaw and Ishan Kishan.

— udayachandran menon (@kausay8) January 15, 2023
Where is #ishan kishan

— @rahul (@rahul22380388) January 15, 2023
Ishan Kishan scores fastest double hundred.

Warms bench for next 3 matches. #INDvSL #IndianCricketTeam

— Suraj Subhash (@SurajSubhash3) January 15, 2023
Ishan kishan? Don't ruin him please🥺🥺

— Sivasiva (@Sivasiv64293644) January 15, 2023