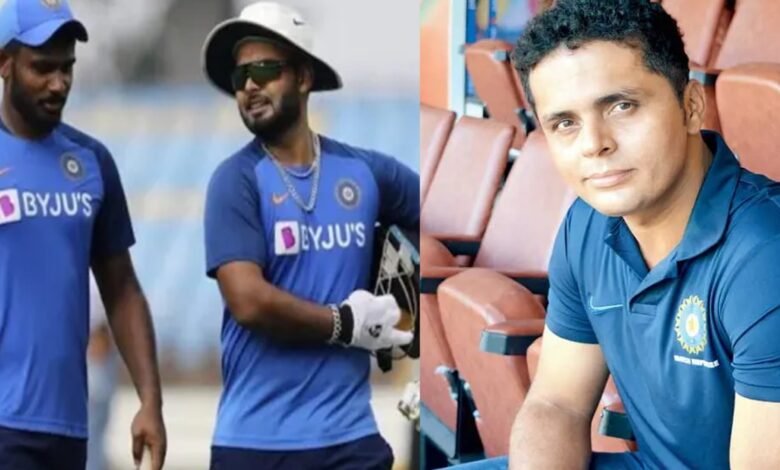 Former Indian cricketer Reetinder Sodhi has lashed out at Indian wicketkeeper-batsman Rishabh Pant for his failures in the white-ball team. Calling the southpaw a liability, he said that Sanju Samson should replace it in the side as everything has a limit.
"He is becoming a liability for Team India," Reetinder Sodhi on Rishabh Pant 
Things are turning bad to worse for Rishabh Pant. His continous failures in the T20Is has  put his place under scanner even in the ODIs despite having a good record in the 50-over format. The keeper batter was India's first-choice player in all three formats.
But since Dinesh Karthik returned to the Indian set-up in T20Is, Pant has been on the sidelines and has failed to get going on the limited opportunities he got. He missed most of the T20 World Cup 2022 as Dinesh Karthik was preferred ahead of him. Pant was then given the opportunity to open the innings in the series against New Zealand. But he failed to grab the spot as he bagged failures in both matches.
He looked scratchy in the second game and managed just 6 runs from 13 balls. n the third game, Pant showed great intent but his shot selection was again something that let him down. He looked good for his 11 runs but he went for wild heroic that saw him back in the hut for a low total.
Rishabh Pant in ODIs since 2021: 466 runs at 52/113

A 50+ score every 2 innings.

— Alagappan Vijayakumar (@IndianMourinho) November 24, 2022
Following his failures in New Zealand T20Is, many fans and pundits have expressed their disappointment with his shot selection and said that team should replace him, especially with Sanju Samson on the bench.
Reetinder Sodhi also hit out at Rishabh Pant and urged team management to immediately drop him from the team. Speaking to India News, he said:
"He is becoming a liability for Team India. If it's like this, then bring in Sanju Samson. End of the day, you got to take that chance because you cannot afford to lose and exit in World Cup or ICC tournaments. When you give too many chances, problems arise. The time has come to provide opportunities to new guys." 
"If he is not performing, you got to show him the exit door," Reetinder Sodhi on Rishabh Pant 
India is now slated to lock horns with three-match ODI series against New Zealand from 25th to the 30th November. It is likely that Rishabh Pant will feature in all three games as he's the vice-captain of the side.
But Reetinder Sodhi questioned Team India and lashed out at them, saying that they cannot depend on one player for long and they should show him the exit door if he's not performing.
"Only time will tell how many opportunities and how long he gets. Time is passing and he really has to tighten his shoes. Everything has a limit. You cannot depend on one player for so long. If he is not performing, you got to show him the exit door." 
The ODI series against New Zealand will be a great opportunity for Rishabh Pant to regain his full form and silence all his critics. It remains to be seen how keeper batter will perform in the upcoming series.
Most runs in international cricket for India in 2022

1256 – Suryakumar Yadav (38 innings)
1190 – Rishabh Pant (36 innings)
1176 – Virat Kohli (35 innings)
1156 – Shreyas Iyer (30 innings)
916 – Rohit Sharma (38 innings)

— CricTracker (@Cricketracker) November 18, 2022