News
"He didn't think about the IPL", Ashwell Prince Hails South African Speedster's Performance Against India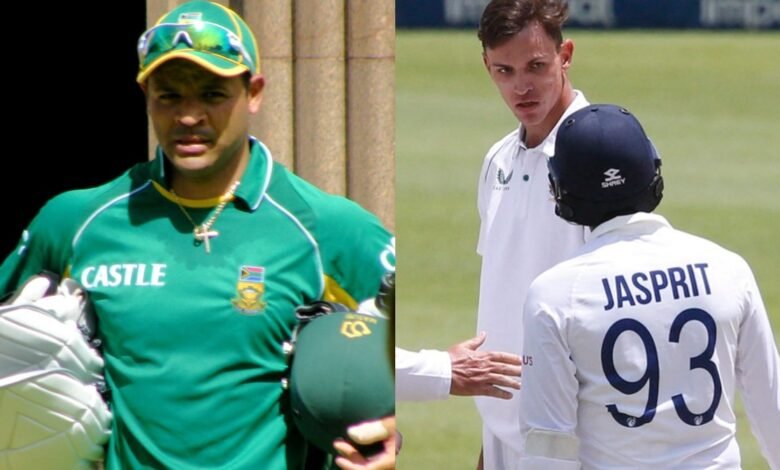 South Africa defeated India 2-1 in the recent Test series. Very few had expected the result considering the strength of Team India. However, the South African youngsters made it possible. Former South African batsman Ashwell Prince was particularly impressed by one cricketer. In this article, we take a look at what the player had to say about the South African pacer who did well against India.
The Bumrah-Jansen rivalry
Marco Jansen was one of the debutantes for South Africa in the series against India. Previously, he had become popular for bowling to Virat Kohli in the nets in 2018. Then, he played for Mumbai Indians in the recent IPL. Although he was expected to put on a good show, very few expected him to go head-on with Indian pacer Jasprit Bumrah.
When Bumrah came on to bat, Jansen bowled a series of bouncers. Bumrah was unhappy and had a few words with him. Jansen too, reacted angrily. Later, in the third game, Bumrah took Jansen's wicket and stared at him. Despite them being teammates at Mumbai Indians, there was no camaraderie on display.
Ashwell Prince hails Marco Jansen
The former South African cricketer was actually impressed with this attitude by Jansen. In the current scenario, almost every international player, in the back of his mind, will have a few thoughts about IPL. The tournament usually offers a hefty contract and also gives players a solid platform to showcase their skills. Hence, there are chances that involuntarily, they might go easy against the Indians.
Well done kid, don't ever change. You be you and if people can't respect you for being you, being competitive, putting your country 1st. That's their problem. Sport is about competing, not giving an inch and upholding the spirit of the game. Not about bank balances. #lesson2youth

— Ashwell Prince (@ashyp_5) January 14, 2022
However, Jansen did not show any such signs. He was the second-highest wicket-taker in the series. Despite it being his debut tournament, the left-arm pacer collected 19 wickets at an average of 16.47. He also had a few decent knocks with the bat in the lower order. Going by his performance in this series, it seems Jansen has a bright future.