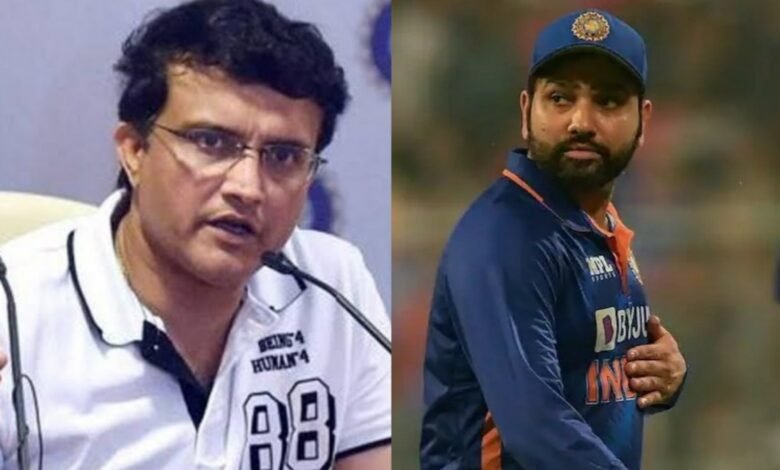 The BCCI president Sourav Ganguly has thrown his weight behind India's new white ball captain Rohit Sharma and has also explained his idea of having just one captain in the whole limited-over set up, rather than having two different leaders separately for 50-over and 20-over cricket.
Ganguly has stressed the fact that when Rohit got the opportunity to captain India in a high profile multination tournament for the first time in 2018, he brought the Asia Cup home and he did it without Virat Kohli. His record as an IPL captain is there to be seen for everyone. BCCI has no doubts that India's white ball leadership is in safe hands.
Ganguly, since the sacking of Virat Kohli, has made it absolutely clear that the only reason behind sacking was the fact that there couldn't have been two different captains in white ball cricket. He was in an exclsuive interview with Cricket Next earlier today where the BCCI president insisted that a good team always has one leader under whose philosophies and ideas, it functions.
While Virat Kohli was India's most successful ODI captain in terms of win percentage, among those who captained at least 50 ODIs, India never won any tournament title under Kohli's captaincy. Kohli's first multination assignment as India's limited-over captain was the ICC Champions trophy 2017, where India reached the final before suffering a massive loss against Pakistan. However, that was just a few months after Kohli had taken over the ODI captaincy.
Kohli then had a go in the ODI World Cup 2019 and India did seem like one of the best teams in the tournament with very good chances of going all the way and winning the title, but the team missed out in the semi final, losing a tight game against New Zealand.
The biggest disappointment of Kohli's white ball captaincy was the recent T20 World Cup where India couldn't even clear the group stages. Although Kohli had already stepped down as India's T20I captain before that tournament, citing workload as the reason, India's performance there in UAE didn't enhance Kohli's reputation as a white ball leader.
No change in white ball captaincy would have happened if Kohli had not resigned as T20I captain: Sourav Ganguly
According to Ganguly, no change in India's white ball captaincy would have come into effect if Virat Kohli had not gone ahead and resigned from T20I captaincy before the T20 World Cup. It was a decision he took for himself and didn't change it despite the request of the board. The board was not in favor of an arrangement of two captains for two limited-over teams. Once Kohli took his call regarding T20I captaincy, the board took its own call regarding white ball captaincy.