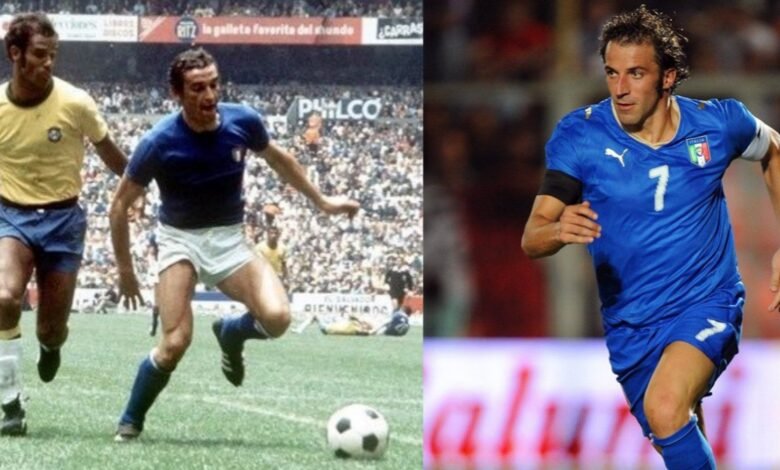 One of the most defensively adept teams in Europe, Italy posted a rollicking statement after the opener in Euro 2020. Despite a jarring first half, the team came back strongly in the second and exploiting the strategic blunders of a technically undercooked Turkey, managed to fire three goals to kickstart the campaign on a winning note.
A team that once featured the likes of iconic Luca Toni and Francesco Totti spearheading their attacking unit was at the receiving end of scoring dearth in recent years. However, with the emergence of Ciro Immobile and Lorenzo Insigne, the team is surmised to be undergoing an attacking renaissance and will be one of the dark horses of the tournament.
Despite the Azzurri being more of a defensively integrated unit, in this story, we will be sneaking a peek into their attacking prowess over the glittering antiquity.
We will sneak a peek into the history of five Italian players with the highest number of international goals for Italy over the span of the club's reckoning football history.
Players with the highest number of goals for Italy:
4. Roberto Baggio and Alessandro Del Piero – 27 goals
Alessandro Del Piero was known for his versatility across all the attacking positions. A man who could settle himself exceptionally well in any of the positions up front that ranged from the wings to the central striker, he was at his most fierce in the position of a deep-lying forward. A towering stature in Italian football, Del Pierro managed to represent his country in three FIFA World Cups and four European Football Championships. From 91 games that he played for the Azzurri, he bagged 27 goals at an average of 0.30.
Roberto Baggio was the first footballer to be inducted into the Football Hall of Fame. He also received the Man of the Peace prize from the Nobel Peace Prize Laureates in 2011. These aspects of his career underlined how brilliant he was as a human being. Coming to his on-field exploits he was contrary to his peaceful nature and was well known for terrorizing oppositions. A man who had successful stints across most of the reckoning clubs in Italy was also one of their highest goal-scorers. He played 56 games and hammered 27 strikes at a decent average of 0.48.
3. Silvio Piola – 30 goals
Hailing all the way from the idyllic Robbio Lomellina, province of Pavia, Silvia Piola didn't have a long brush with the national team. However, in the limited appearances that he featured in, he scored a significant number of strikes to pen his name in the panoply of Italian footballing Gods. He is the highest goal-scorer in the Italian first league with 290 goals, 274 in Serie A and 16 in Division Nazionale. Such eminent was his personality that two Italian football stadiums were named after him, one in Novara in 1997 while the other being in Vercelli in 1998. He only featured in 34 matches for Italy and managed to smash 30 goals at a staggering average of 0.88 goals per game.
2. Giuseppe Meazza – 33 goals
The Inter Milan legend, Giuseppe Meazza, intaglioed himself in the Italian history books in golden letters. The man managed to strike a tottering 33 goals from just 53 matches at a stunning average of 0.62. He was a predator in the box and anything that came at his feet and had even inches of space ahead of him saw the back of the net. Another interesting fact about Meazza was that San Siro, a stadium that is used by AC and Inter Milan, was named Stadio Giuseppe Meazza in 1980 in honour of this footballing icon.
1. Luigi Riva – 35 goals
Deemed as the best footballer of his generation, Riva was an absolute destroyer ahead of the goal. He played a significant part of his career for Cagliari where he went on to smash 164 goals from 315 matches. He went on to win the 1968 UEFA European Championship and was also the runner-up of the 1970 FIFA World Cup with Italy. He starred in 42 appearances for the Italian national team and went home with the bragging rights of 35 international goals at an astonishing average of 0.83 goals per game.