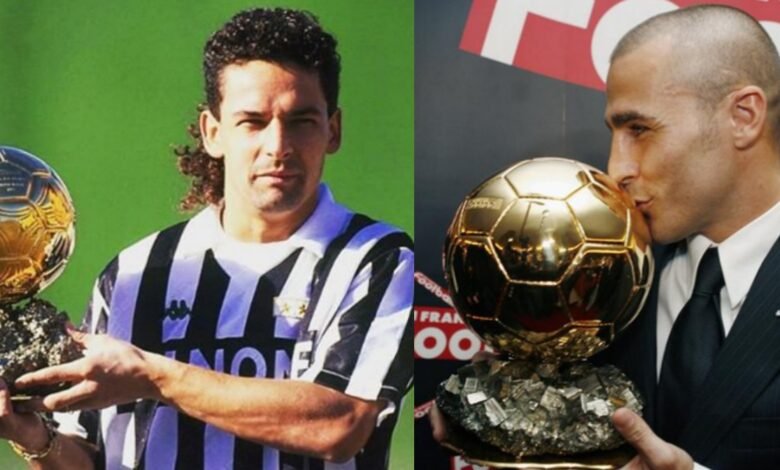 Italy has been producing world-class players across the pitch for a longer period than almost any other country. Players of Italian nationality have won the Ballon d'Or five times. There have also been instances of one Italian overtaking and winning another Italian in the Ballon d'Or race. In this article, we will look in detail at the five Ballon d'Or winners from Italy.
#5 Omar Sivori – 1961
Omar Sivori is probably the least famous among the Ballon d'Or winners from Italy. This is also because he was born in Argentina and started his career at River Plate. However, he had Italian ancestry and soon Juventus came calling. He spent eight seasons at Juventus from 1957 to 1965.
In 1960, Sivori was the league top scorer and Juventus won the Serie A title. The next season, Sivori helped Juventus to retain Serie A and was rewarded with the European best player award. Sivori scored over 150 goals for Juventus, and in 1965 he left Turin to play in Naples.
#4 Gianni Rivera – 1969
Regarded by many as Italy's greatest ever player, Rivera was a genius playmaker known for his dribbling skills and creativity. He made his Serie A debut with Alessandria, but in 1960 he joined AC Milan. In the next 19 years, he made over 600 appearances for Milan, a record which was broken by Baresi a few years later.
In 1969, Rivera led Milan to glory in the European Cup by beating Johan Cruyff led Ajax in the final. Milan also won the Intercontinental Cup and Rivera won the Ballon d'Or by beating fellow Italian Luigi Riva by four points.
#3 Paolo Rossi – 1982
In 1973, Rossi started his career at Juventus, but in two seasons he did not play in any Serie A games. Thus, he moved to Como and then Vicenza, where he established himself as a consistent goalscorer. In 1981, he moved back to Juventus but played only three Serie A games in the following season due to a ban for his involvement in a betting scandal.
In the 1982 World Cup, Italy were unimpressive in the group stage and Rossi was criticized for his performance. But he turned up spectacularly in the knockout stages, with a hat-trick against favorites Brazil, completely changing his image among fans. He scored a brace in the semi-final and one goal in the final, which Italy won. His efforts granted him an easy Ballon d'Or victory.
#2 Roberto Baggio – 1993
In 1990, Baggio broke the world record for a transfer when Juventus purchased him for £8 million. He totally proved his worth in the upcoming seasons by becoming Juventus' chief playmaker. In the 1992-93 season, he scored 21 goals in 27 Serie A games, but Juventus finished fourth in Serie A.
However, Baggio scored six goals in the UEFA Cup and led Juventus to glory. He was subsequently named the FIFA World Player of the Year and the European footballer of the year in 1993.
#1 Fabio Cannavaro – 2006
With stalwarts such as Maldini and Nesta injured, Cannavaro led Italy to an unprecedented World Cup title in 2006. He also won the Serie A title with Juventus, which was later awarded to Inter Milan due to the calciopoli scandal. At the end of 2006, he became the latest addition to the Ballon d'Or winners from Italy.
Cannavaro started his career at Napoli and later moved to Parma, where he played for seven seasons. After his World Cup success in 2006, Cannavaro moved to Real Madrid and played until 2009.