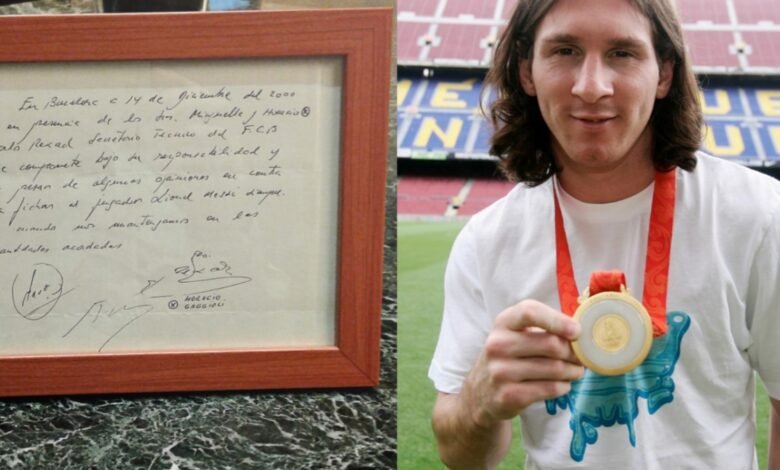 Lionel Messi, for all his record-breaking exploits on the pitch, has always led a very private life outside the pitch. Despite being a worshipped character across continents, Messi has been a quiet presence. Very little information is known about him, outside of what he does on the football pitch. In this article, we will look at five interesting facts about Lionel Messi.
#5 First footballer to win Laureus World Sportsman of the Year
In 1999, Laureus sport for good foundation introduced an award to honour the best player across sports. Since then, the award has been won by several remarkable sportsmen such as Nadal, Usain Bolt, Roger Federer etc. However, until 2020, no player from a team sport had been given the honour by Laureus sports.
Lionel Messi broke that record in 2020 when he became the first person from a team sport to win the award. The award was shared between Lionel Messi and record breaking Formula 1 champion Lewis Hamilton.
#4 Could have played for Spain
Messi's lack of International Trophy has often been used in discussions to rank the greatest footballer ever. However, Messi had a chance years ago to change his International fortunes. The Royal Spanish Federation requested Messi to represent Spain and join the likes of Xavi, Iniesta and Ramos.
However, Messi's love and passion for Argentina prevented him from making such a dramatic decision. Spain won two EURO Championships and a World Cup with one of the greatest footballing teams ever assembled. It is scary to even think what Messi would have achieved if he had played for Spain.
#3 Olympic gold medalist
In Olympics, footballers under the age of 23 from several nations participate in a mini-tournament to crown the winner. At the Beijing Olympics, Argentina were looking to defend their crown having previously won the tournament in 2004. Argentina possessed an attack filled with stars such as Messi, Aguero and Angel Di Maria.
There was doubts over Messi's participation but Pep Guardiola allowed him to represent his country after taking over in the summer of 2008. Argentina won the gold medal again and Messi scored two goals in six outings for his country.
#2 Growth hormone deficiency
Messi was diagnosed with growth hormone deficiency and the cost of treatment could not be afforded by his modest family. Many famous Argentina clubs such as River Plate were not ready to pay Messi's medical expenses and passed away the chance to sign the little genius.
However, Barcelona was more than happy to help in Messi's treatment. The treatment involved injecting Human Growth Hormones for a stipulated period. The treatment solved Messi's disorder and he went on to represent and win every major trophy with Barcelona.
#1 First contract on a napkin
It is now well known that Messi arrived in Barcelona in 2000 and his family was promised that their son was indeed very special. However, the story of his arrival is quite interesting. The Technical Secretary of FCB at that time was Carlos Rexach and in Argentina, he made a decision that would change FC Barcelona's history.
With a few of his colleagues pressing him about Messi's future, he took a napkin and wrote down the first contract of Messi's career. In a week's time, he presented the official contract to Messi's family and promised them that their kid will be safe at La Masia. The rest, as they say, is history.