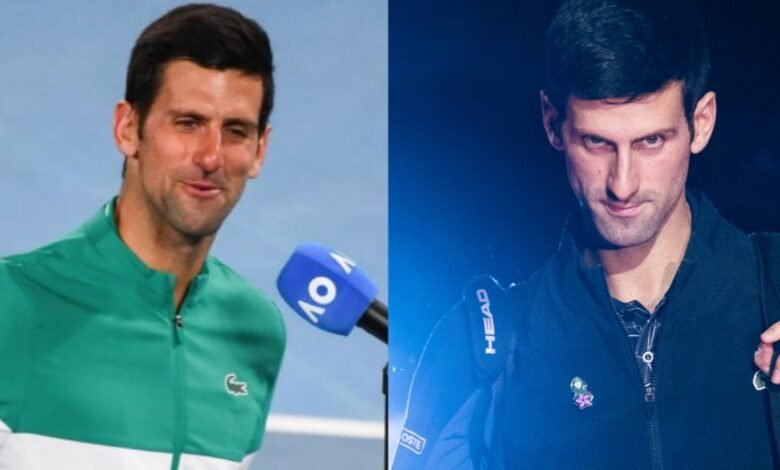 The ace of tennis once again shattered the ceiling with an extraordinary brand of aggressive game that saw him surging ahead of Tsitsipas in a pulsating finale of the French Open to emerge as the champion. Novak Djokovic was absolutely relentless that witnessed him staving away a famished Rafael Nadal in the semis which was followed by a rippling display in the finals from the Serbian star to power his way to glory.
He is considered to be an imperative part of the big three that comprises Roger Federer and Rafael Nadal. At the tender age of 20 years, he started his professional career and hogged the limelight as he put a spanner in the streaks of Federer and Nadal, as he went on to win his first Grand Slam title in the 2008 Australian Open.
Given his iconic stature in the court, his fans have always been interested in knowing relentlessly about Joker. On the auspicious occasion of his triumph at the French Open, we will be bringing to you five rare known facts about the living legend, Novak Djokovic.
1. Djokovic's first tennis racquet and his early impression upon seniors
Novak shared an exceptionally intimate bond with sports. Not only tennis, but he closely monitored other games like skiing and football. However, he soon discovered his proclivity towards tennis at the age of four when he held his first racquet. It was gifted to him by his father.
In 1993, Djokovic left a lasting impact on the preceptor of iconic Monika Seles, Jelena Gencic. She quoted that Novak was the best player that she had seen since Monika Seles. He was trained by her for the next 6 years. He then shifted to the Pilic Academy in Munich, Germany for the higher quest of professional tennis.
2. Novak and his dalliance with languages and others
Djokovic shares a singular affinity with different languages. He can speak German, English, Serbian, French and Italian. He met his wife, Jelena Ristic in high school.
The couple got married on 10th July 2014 and is parents to a boy called Stefan. Djokovic's brush with glory came at an early age of just 14 years. He managed to secure a triple European championship in the singles, doubles and team competition. He also went on to notch up the silver medal at the World Junior Championship for Yugoslavia.
3. Djokovic's brush with some off-field antics
Going by his nickname, Joker, he has a stellar sense of humour and has even managed to entertain the crowd with an excellent mimicry of other tennis stars.
During the 2007 US Open, he managed to mimic the likes of Rafael Nadal and Maria Sharapova. In the 2009 US Open, his impersonation of John Mc Enroe went viral. He got popular on YouTube for his impersonations, barring his legendary moves on the tennis court.
4. Djokovic is a member of this unique club and regularly contributes to the society
In a world full of chaos and cacophony, Djoker is a member of the "Champions for Peace" club. This club is a fraternity of eminent sports personalities who are committed to serving peace to the world.
The club was founded by Peace and Sport, a Monaco-based organization. He is also a very religious personality. He is a player of the Serbian Orthodox Church as well. In 2007, he also launched the "Novak Djokovic Foundation" to cater to disadvantaged children, ply downtrodden children in Serbia with financial support, and help children who lost their parents to wars and also bankrolling the Serbian monasteries and churches.
5. Miscellaneous
Djokovic once dedicated all his earnings from various tournaments to the people in Serbia in 2014 that bore witness to the horrific scenes of a flood.
He notched up a championship in 2014 and donated a staggering amount of $749934.
The iconic tennis player refrains from food that contains gluten as he believes that it helps to keep him fit.
He doesn't intake dairy products and refrains from consuming alcohol.
He has a book called "Serve to Win" that underlines his reckoning journey to the top of the world. The book also helps everyone with a 14 days gluten-free diet chart for improving one's fitness.
The Serbian blues-rock band, Zona B dedicated a song to him called "the Joker".
In 2011, he was also voted as the 19th most influential man of Askmen.com's Top 49 Most Influential Men.
Djokovic also starred in 'The Expendables 2' in a brief cameo. Unfortunately, his role in the movie was removed.
Novak is an ardent dog lover. He takes his pet poodle, Pierre everywhere he goes.
Whenever he is playing at Wimbledon, Joker always eats grass as he says that it tastes like his sweat.
He has also featured in a music video called Hello by Martin Solveig.
After winning the 2016 French Open, he became the only Men's Single Tennis player after Rod Laver to notch up a "Career Slam" in history.