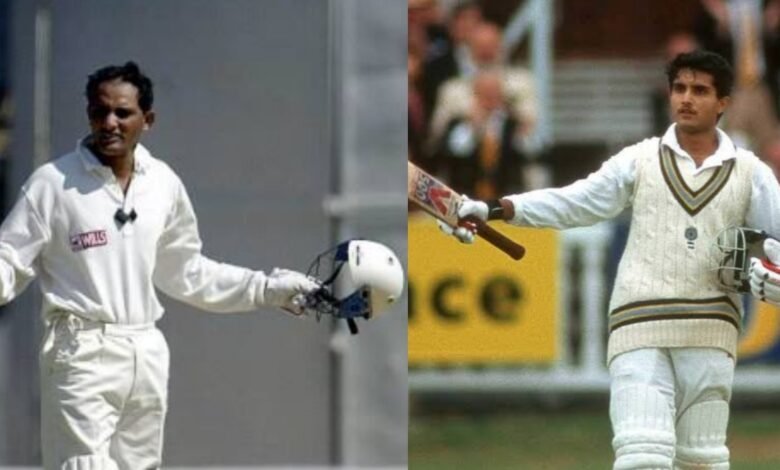 Test cricket is the greatest degree of the game, and it takes a special set of abilities to play the longest format. Anyone who can play this format well is assumed to be able to play the other two forms with ease. A Test match may put your skill, temperament, and talent to the test all at once which makes it the purest format of the game.
Every promising cricketer aspires to play Test cricket for his country at the top level and deliver a great inning right away.  It's one thing to perform well enough to bring the team over the line, but it's quite remarkable to get a century on your Test debut. However, just a handful of them have succeeded in doing so.
On that note, let's take a look at five Indians who scored a century in their debut Test Match.
1. Mohammad Azharuddin
Mohammad Azharuddin, who captained the Indian team for most of the 1990s and is noted for the elegance and flexibility of his wrist, holds the accolade of hitting a century in each of his first three Tests. The first of which came against England at Eden Gardens, Kolkata in 1984.
Azhar announced his arrival in the Test arena with a splendid century on debut as he smashed a brilliant 110 runs against England. He played a magical inning as he guided the ball all over the ground with his wristy strokes and pure elegance.
Azhar stitched a magnificent 214 runs partnership alongside Ravi Shastri, who scored 111 runs to steer India to a commendable total of 437/7 dec. The match eventually ended in a draw but gave rise to India's one of the finest batters who went on to score two centuries in the next two tests.
2. Sourav Ganguly
Sourav Ganguly, one of the most versatile and aggressive captains in Indian cricket started his Test career in the most memorable way possible.
Making his debut in 1996 at the iconic Lord's stadium against England, Ganguly came out to bat at No.3 for India and registered a mesmerizing century scoring 131 runs with the help of 20 boundaries.
Ganguly stitched a useful 94-run partnership with Rahul Dravid, who was also making his debut to help India post a score of 429 on the board. With that ton, Ganguly became the third player to score a century at Lord's as he etched his name in the record books.
3. Virender Sehwag
Virender Sehwag was not seen as a Test batsman especially in overseas conditions but Ganguly saw the talent and potential in him as he selected him for the South Africa tour in 2001.
Coming out at No.6 in his debut Test at Bloemfontein, Sehwag smacked an exceptional century scoring 105 runs and notching a 220 run partnership alongside Sachin Tendulkar, who scored 155 runs.
Sehwag repaid the faith showed in him by the captain and helped India put 379 runs on the board. Unfortunately, India lost the match but Sehwag rose through the ranks and started opening the batting to become India's one of the best openers.
4. Rohit Sharma
After featuring in 103 ODIs, Rohit Sharma finally made his Test debut for India in 2013 against West Indies. The series is highly remembered as Sachin Tendulkar's last one and Rohit Sharma gave a perfect gift to the Indian legend by notching consecutive centuries in his first two Tests.
Sharma came out to bat at No.6 in the Kolkata Test and wrecked a magnificent 177 runs and also stitched a mammoth partnership of 280 runs with Ravichandran Ashwin who also smashed 124 runs.
His knock helped India post a total of 453 runs as they went on to defeat West Indies by an innings and 51 runs. Rohit didn't stop there as he scored another ton in Sachin's Farwell match and has now become a regular opener for India.
5. Shikhar Dhawan
Shikhar Dhawan went out blazing all guns in his debut Test match against Australia at Mohali in 2013. Dhawan opened the inning alongside Murali Vijay and started attacking as soon as he got on the crease.
He took the Australian bowlers to the cleaners as he smashed them all around the park and smashed the fastest ever Test century on debut in just 85 deliveries. Dhawan went on to score 187 runs to record the highest score by an Indian on Test debut.
Both the openers stitched a record 289 run partnership and helped India secure a breathtaking win.