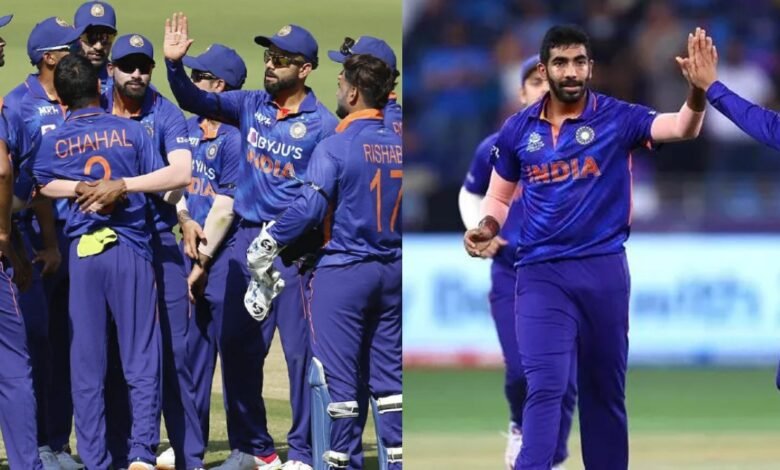 When it comes to cricketers in India, there are no opportunities to take part in franchise-based cricket tournaments outside the country. Hence, improving on the statistics is a little difficult. The players majorly have only the T20Is, IPL, and the Syed Mushtaq Ali Trophy to show their skills in the shortest format of the game. Nevertheless, a few Indians have been consistent in this format. On that note, in this article, we take a look at the list of three Indian pacers who have taken more than 200 T20 wickets so far.
Note: The stats are as of 18th May 2022.
1) Jasprit Bumrah – 250 Wickets
Matches: 206 || Average: 21.63 || Economy: 7.03
Jasprit Bumrah is the highest wicket-taking for India across the T20 format right now. He has 67 scalps in international cricket, just one short of Yuzvendra Chahal, who sits at No.1. In IPL, the Mumbai Indians cricketer has 142 wickets, which makes the tournament with the highest returns for him.
Although he started out as a T20 specialist, Bumrah has become a successful all-format bowler for India. Going forward, his role will be crucial for India to win key events.
2) Bhuvneshwar Kumar – 224 Wickets
Matches: 220 || Average: 25.19 || Economy: 7.17
Bhuvneshwar Kumar stands at No.2 in this list of Indian pacers who have taken more than 200 T20 wickets so far. With 154 wickets in IPL itself, Bhuvi has been a consistent part of the Indian T20 team for a while now.
There was a phase when Bhuvi was struggling with injuries and poor form. However, he has overcome that and now forms an integral part of the team. For Bhuvneshwar, the biggest success is transforming himself from being a powerplay pacer to an all-phase bowler.
3) Jaydev Unadkat – 201 Wickets
Matches: 163 || Average: 23.21 || Economy: 8
Jaydev Unadkat has played only 10 T20I games for India and in IPL, as well, it is only in recent seasons that he has consistently been part of a playing XI. Hence, it is a surprise that he features here. That said, not many have found as much success as Unadkat has seen in domestic tournaments in recent years.
For Unadkat, though, a comeback to Team India is looking hard, especially in the T20 format. There is a new crop of left-arm seamers who are doing well. Hence, it will be a difficult road for the Saurashtra cricketers.