Cricket
News
Uncategorized
"Does Virender Sehwag know more than ICC?" Shoaib Akhtar reacts to Virender Sehwag's chucking statement
Virender Sehwag had said a couple of days ago that Shoaib Akhtar used to chuck and he himself knew it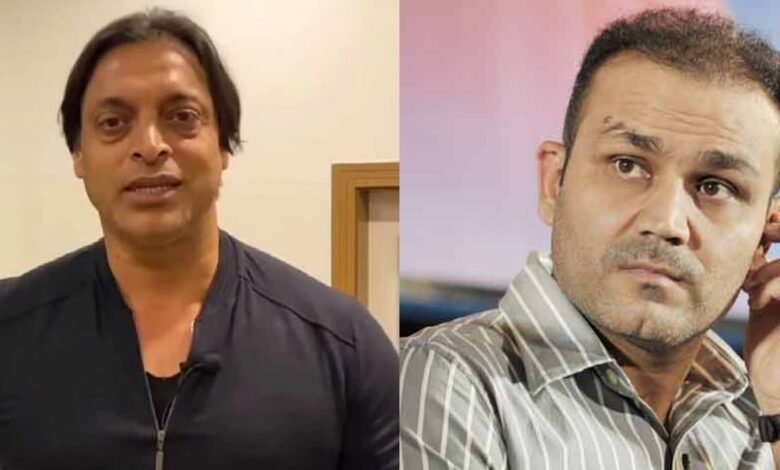 The former Pakistan fast bowler Shoaib Akhtar doesn't seem to be amused by the statement that the former Indian opener Virender Sehwag made about him a couple of days ago. Sehwag, while speaking on India's new sports channel Sports 18, had said that Shoaib used to chuck and he himself knew it.
According to Sehwag, both Brett Lee and Shoaib Akhtar were super quick bowlers, but while facing Brett Lee, he never felt as if he was chucking because he could pick his release point, but with Shoaib, because he was chucking, it was hard to pick the release point and he didn't know where the ball was coming from.
Virender Sehwag had also said that whenever he hit Shoaib Akhtar for a couple of boundaries, he was a bit concerned because he didn't know what he was going to receive from Akhtar after that. It could be a beamer or a pinpoint yorker, it could be anything.
Virender Sehwag should be careful while saying things like that: Shoaib Akhtar
When Shoaib Akhtar was asked about Sehwag's statements on Sportskeeda recently, he said that he had not watched Sehwag's interview, but he insisted that Sehwag should be careful while passing any such kind of statement because ICC allowed him to bowl and they did it only because they found his action legal.
Akhtar said if in Sehwag's opinion, he has got more knowledge about the actions of the bowlers than the ICC itself, then he can say anything he wants, but he should also think about the fact that such statements about Pakistani cricketers can disturb the harmony between the two nations.
Shoaib further added that his opinion of Virender Sehwag is that he was one of the greatest batsmen India ever produced and he always played for the team. His approach was to take the game away from the opposition and that's why he rates him highly as a batsman.