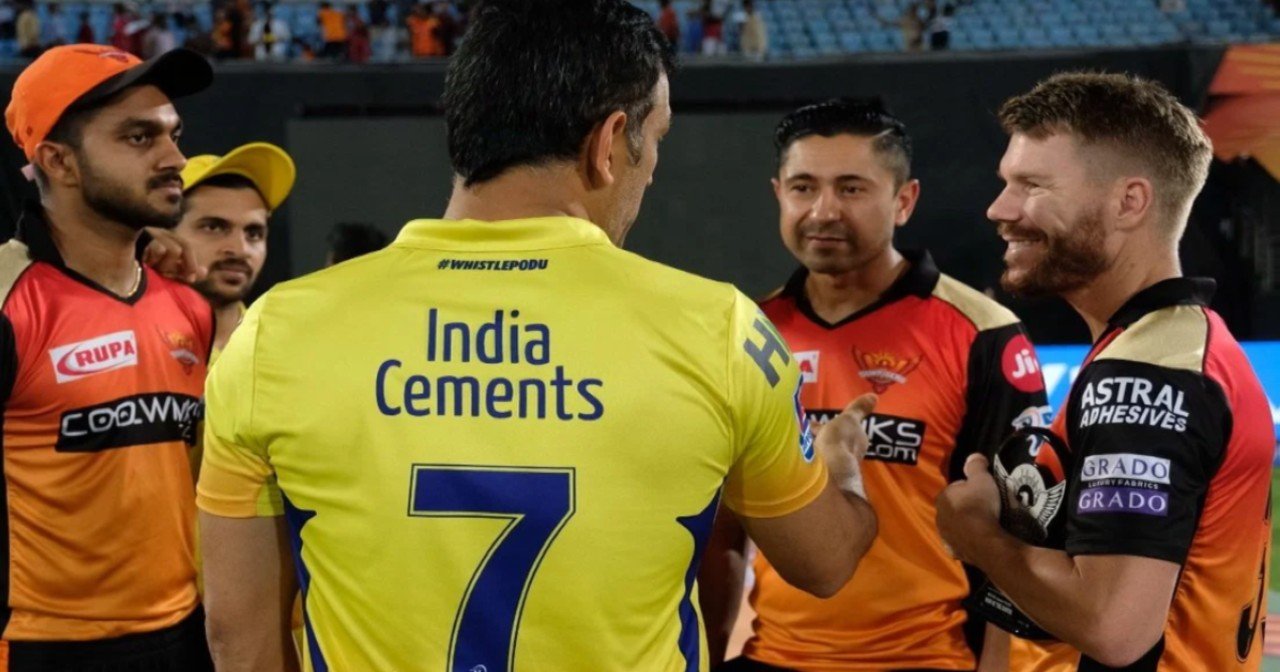 MS Dhoni's Chennai Super Kings defeated Sunrisers Hyderabad in a tight contest in Dubai on Tuesday. It was a must-win game for CSK, and they managed to pull off a 20-run victory against a good SRH side lead by David warner. CSK batted first and went on to score 167-6 in their 20 overs.
SRH kept losing wickets at regular intervals but they managed to take to down to the last two overs with Rashid Khan still at the crease. SRH needed 27 runs off the last two overs and Shardul Thakur was given the responsibility to bowl the 19th over. Khan got a double of the first ball and the second ball was a wide which meant 24 runs were required off the last 11 balls making it tight.
It is the next ball where all the drama took place. Shardul Thakur once again bowled a wide yorker which was clearly outside the tramline and the umpire Paul Reifell turned to signal a wide and that's when MS Dhoni who collected the ball was furious on the umpire and he yelled something from behind the stumps. Hearing that, Paul Reifell decided to change his mind and he didn't stretch his arms.
At the same time, David Warner who was sitting in the dugout saw the replay and he didn't seem happy, and rightly so. The SRH captain wasn't impressed with the umpire's decision and he talked about it in an interview with India Today. David Warner clearly said that he thought the umpire changed the decision and he should have stuck with his decision and called it a wide.
"That day with MS (Dhoni), I know he would have been frustrated had it been called a wide. But the simple fact is it was wide and the umpire was going to call a wide. And he changed his mind by looking at the opposition captain's body language."
"He is behind there as a wicketkeeper, so he can see that he has shown his frustration. We all do that, at times, as captains, we all show our frustrations but at the end of the day, they can make their calls, how they make it. We just gotta respect that. So, there is no point of arguing,"
He has clearly mentioned that at the end of the day players have to respect the umpire's decision and there is no point in arguing.
As it stands in the tournament, CSK finding hard to get going with only three wins in their kitty. It will be hard road for CSK to be able to make it to the play offs as they have to win all the remaining games. Blemish Looking CSK team has to do many things right to fit into the groove and to keep their playoffs qualifying streak intact.
Meanwhile, SRH looking good on paper but clearly lacking in the middle order with inexperienced Indian players in the fray. Absence of Bhuvenshwar lead to a slight dent in SRH's Bowling performance since he left. WIth Powerpack top 3 and the world's best spinner it is very hard for them to accommodate a foreign bowler to nullify the absence of Bhuvi. It will be interesting to see how they would approach in the remaining games of the tournament as they share the same road with CSK.