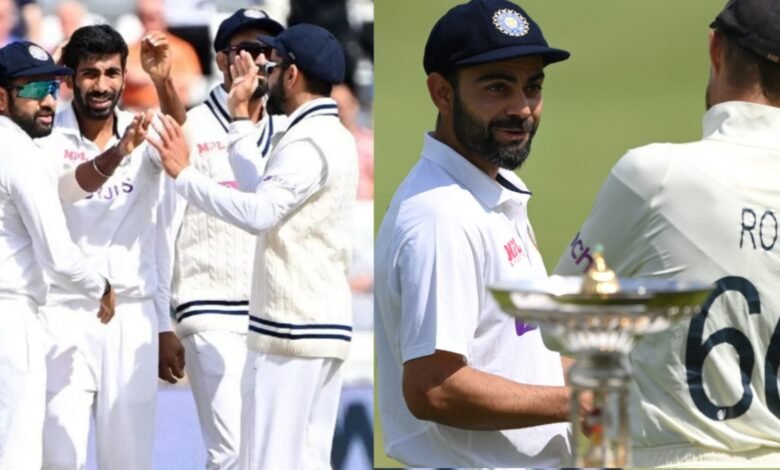 After so many speculations and debates, the final test of the India England series was declared as it be played in July 2022 when India will be travelling to England for their T20 tour.
The India England bilateral Test affair kicked off in September 2021 that also marked the opening of the second edition of the World Test Championship. After a dampened fifth day of the first Test match, India got in the groove as they drubbed England in the mecca of cricket.
The moment that heated up the contest between India and England
England came up with a swift response as they hammered India emphatically at Leeds. However, the finalists of the WTC opening edition were even more determined to bag their second victory in the series as they got the better of England at the Oval.
There were a lot of questions about whether this fifth Test will ever be played between the two nations. A lot of vitriol and bad blood was exchanged between the sides as there were a lot of blame games in the air.
However, putting all fears to bed, ECB came up with the much-waited answer as they declared that the final match of the series will be played from July 1st to 5th. This will be followed by the already scheduled T20 and ODI series.
This is what ECB had to say about the upcoming series between India and England
ECB was heard quoting, "Ticket holders do not have to take any action as all tickets will remain valid for the equivalent rearranged matchday at their host venue."
They continued by saying, "Host venues will communicate the new fixture details to ticket purchasers and the options available to them, including the timeframe for requesting a refund if they are not able to attend the new match day."
As per the revised schedule, the Test will be played between 1st and 5th July while the opening T20 will be played on 7th July followed by the second T20 on 9th and the third on 10th. The ODI's are scheduled on 12th, 14th and 17th July.
Twitter was finally happy to know that series will get a conclusion after multiple words were thrown in countless directions, inculpating the authorities and the players after the series was halted following a Covid scare.
Breaking News:
Fifth test between India vs England has been rescheduled for July 2022 at Edgbaston. #INDvENG || #TeamIndia || #CricketTwitter

— Ramkrishna Goswami© (@Its__rg) October 22, 2021
India Vs England 5th Test Match Update :

The Test will be played at Edgbaston in July 2022 🏏

The match was called off last month after COVID-19 cases in the India camp.#INDvsENG #ITC2023

— AMAN GOYAL 🇮🇳 (@AMAN_VK18_CR7) October 22, 2021
@mufaddal_vohra India Vs England 5th Test match has been rescheduled and will take place in July next year.

— Kuldeep shuukla (@imKSS16) October 22, 2021
India vs England 5th test match has been rescheduled to July 2022
Officially announced by ECB #indvseng #testmatch @englandcricket @BCCI

— Himanshu Ladha (@HimanshuLadha8) October 22, 2021
The fifth Test India vs England rescheduled on July 1, 2022 at Edgbaston

Let's effin goo ❤️❤️❤️

— Shrutika Gaekwad (@Shrutika_45_) October 22, 2021
The fifth Test India vs England rescheduled on July 1, 2022 at Edgbaston #IND #INDvPAK #CricketTwitter #Cricket

— अजय श्रीवास 🇮🇳 (@shrivasAJAY123) October 22, 2021
🚨 BREAKING NEWS 🚨

The cancelled 5th Test vs India has been rearranged for 1st to 5th July 2022 at Edgbaston#INDIAvsENGLAND

— Abhishek (@Abhishe50838544) October 22, 2021
India vs England 5th test match will be payed in July 2022 😎 . #indvseng #india pic.twitter.com/2916k7vgBv

— HITMAN 45 (@LoyleRohitFan45) October 22, 2021
@mohsinaliisb @razi_haider sir, breaking news India vs England remaining 5th test match scheduled in 1st to 5th july 2022 in Birmingham..please discuss this in evening show… pic.twitter.com/fHC4h79Gfl

— Ajinkya Palkar (@ajinkyaplkr) October 22, 2021
India Vs England 5th Test match has been rescheduled and will take place in July next year. pic.twitter.com/iMTiaJHBwj

— Robin Saroy (@RobinSaroy2002) October 22, 2021