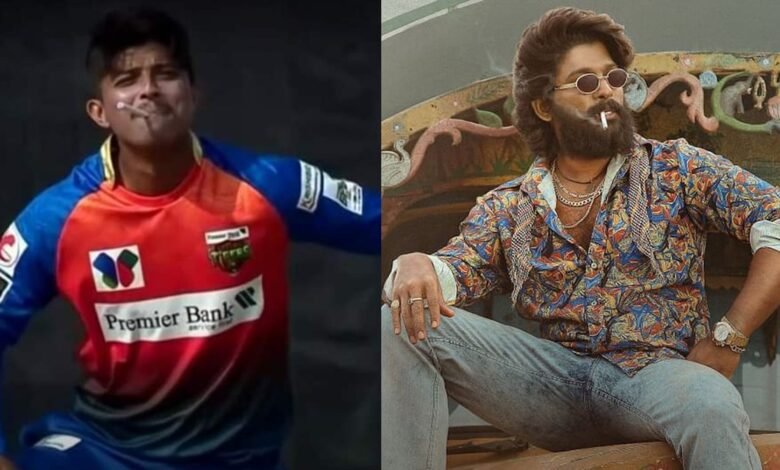 The Indian Telugu movie Pushpa is grabbing eyeballs not just in India, but in the neighbouring South Asian countries as well and the superstar cricketers around the globe are now imitating the moves of the actor Allu Arjun in the movie.
While Ravindra Jadeja was the first cricketer to do so, he was followed by Irfan Pathan who imitated a scene from the Hindi dubbing of the movie and now two Bangladesh cricketers have imitated Allu Arjun's move during live matches of the ongoing Bangladesh Premier League (BPL).
The former Bangladesh captain Shakib Al Hasan imitated the same move that Jadeja imitated on his Instagram account and then the off spinner Mahedi Hasan went a step further and he actually used a "beedi" in Allu Arjun's style on the ground after taking a wicket. Although it wasn't quite a real beedi (a smoking substance) and was something else used symbolically as a beedi.
Bangladesh is one of those countries where Indian movies are very popular, but this is the first time that the Bangladeshi cricketers have imitated the moves of an Indian movie on the ground itself. It amused the fans on Twitter so much that some of them asked whether it's Bangladesh Premier League or Pushpa league.
Pushpa has done fabulously well on the Box Office in India, not just in its original version which is in Telugu, but in its Hindi version as well. Allu Arjun, the lead actor in the movie, is one of the most renowned actors of the South and enjoys massive fan following in the South Indian states.
Videos of Bangladeshi cricketers' Pushpa moves are grabbing eyeballs in India
As far as Bangladesh Premier League (BPL) is concerned, it's a tournament which went through a bit of a blip and couldn't be organised for a couple of years due to logistical issues, however it's underway again and upon its resumption, it has attracted some of the superstar foreign cricketers as well.
The likes of Faf du Plessis and Andre Russell, who are big IPL superstars, are participating in the ongoing edition of BPL and it's a competition which is being watched quite a bit in India as well. Now that the Bangladeshi cricketers have added a bit of "Pushpa" flavor to their celebrations, those videos are bound to grab a lot of eyeballs in India.
Here is how the fans on Twitter reacted after Shakib Al Hasan and Mahedi Hasan imitated Allu Arjun during BPL games –
Now its Mahedi Hasan👌👌The Pushpa celebration continues in Bangladesh Premier League🔥🔥#BPL #BPL2022 @MahediHasan_55 #PushpaRaj #PushpaTheRule pic.twitter.com/U8LneHlNXM

— Mahi (@kexo654) January 28, 2022
Shakib Al Hasan in to the list ⚡
#Pushpa × @alluarjun pic.twitter.com/SgDGxanAkX

— 🅃🄴🄹🄰_🅐🅐⛥🪓 (@TejaAAfan_) January 25, 2022
No 1 all rounder shakib al Hasan today after du plessis wicket 😍🥰#ThanggedeLe#Pushpa@alluarjun@TrendsAlluArjun pic.twitter.com/UsJGGyi9Gk

— RAyhAn tanvir 🇧🇩 (@allu_tanvir) January 25, 2022
Bangladesh Top player Shakib Al Hasan doing the Thaggedhe Le movement 🔥🤏#Pushpa @alluarjun #PushpaTheRise @PushpaMovie
pic.twitter.com/rfSEhL1y80

— Aryan SuryA 🪶 (@AryanSuryA_) January 25, 2022
Bangladeshi best ever cricketer Shakib Al Hasan displaying the #Pushpa move in BPL 🤯#BPL2022 #INDvWI#INDvsWI #AlluArjun

— CRICKET VIDEOS 🏏 (@AbdullahNeaz) January 26, 2022
Shakib Al Hasan celebrate his wicket with Pushpa celebration in #BPL2022

Allu Arjun's Craze >>>>@alluarjun pic.twitter.com/hI21SgW0Iq

— Rafa Shawon (@Vamos__Rafa) January 26, 2022
Now its Mahedi Hasan👌👌 The Pushpa celebration continues in Bangladesh Premier League🔥🔥#BPL #BPL2022 @MahediHasan_55#PushpaRaj #PushpaTheRule pic.twitter.com/gFy93s0eX8

— Allu Hindi Fans (@Allu_Hindi_Fans) January 28, 2022
The ultimate craze of #PushpaTheRise in BPL..🔥🔥🔥🔥

It's tired out as #Pushpa League..!!#AlluArjun #SaamiSaami pic.twitter.com/kbMMHaYQJ2

— Arjun 🪓 (@ArjunVc_Online) January 28, 2022
The Madness of Pushpa continue's In BPL 🔥🤯 !AlluArjun's Steps & Mannerism are Ruling Everywhere 🙏 #pushpa @alluarjun #pushpaTherise

— Allu Arjun TFC™ (@AlluArjunTFC) January 28, 2022
Shehzad in to the list ⚡🔥

Idhi BPL aa ledha PPL (PushpaRaj premiere league) aa 😮
#Pushpa × @alluarjun pic.twitter.com/ScOsfkzBkY

— 🅃🄴🄹🄰_🅐🅐⛥🪓 (@TejaAAfan_) January 28, 2022