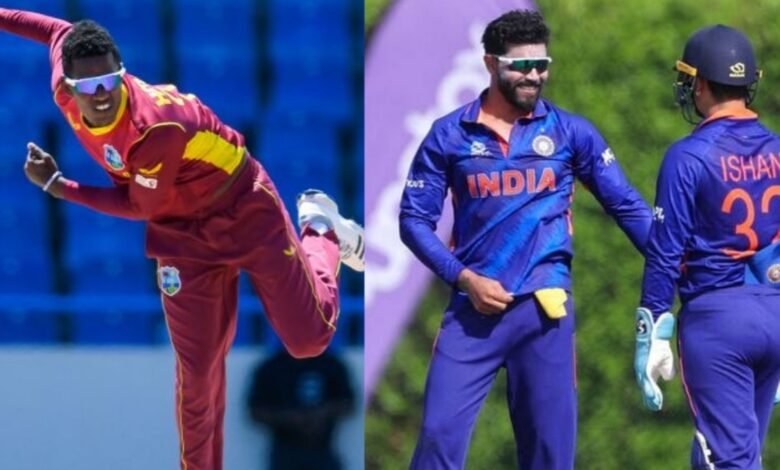 The West Indies left arm spinner Akeal Hosein took a flying catch in the T20 World Cup game against England yesterday to dismiss Liam Livingstone and leave a lot of people awestruck.
Akeal is not someone who is famous in the the international circuit yet. He has played a few international games and has played a fair bit of CPL as well, but he is not a regular member of the West Indies white ball set up. He was, in fact, not even in the original squad of West Indies for the ongoing T20 World Cup and it was only because of the injury of Fabian Allen that Akeal got an opportunity.
Akeal Hosein, since 2013, has been a big fan of the Indian allrounder Ravindra Jadeja as Jadeja is a player of similar profile as Akeal and has put on many match winning performances for India in all three formats of the game.
Akeal Hosein considers Ravindra Jadeja as his role model
After Akeal took that blinder of a catch in last night's game, some fans on twitter dug out one of his old tweets about Ravindra Jadeja where he had written he would like to become a cricketer like Ravindra Jadeja one day.
One day… I'd like to become a player like him… @imjadeja pic.twitter.com/VLb9DRwf66

— Akeal Hosein (@AHosein21) October 16, 2013
And the catch that Akeal took to dismiss Livingstone was very reminiscent of Jadeja, as Jadeja is not just a gun allrounder with bat and ball, he is also arguably the best fielder in the world, particularly when he fields in the outfield.
As far as Akeal's bowling is concerned, his bowling style is also very similar to that of Ravindra Jadeja as he is a quickish left arm spinner who doesn't really flight the ball a lot and mostly bowls into the pitch to purchase anything that the pitch might have to offer.
Akeal is also a handy lower order batsman at the moment with the ability to bat a bit higher going ahead in his career.