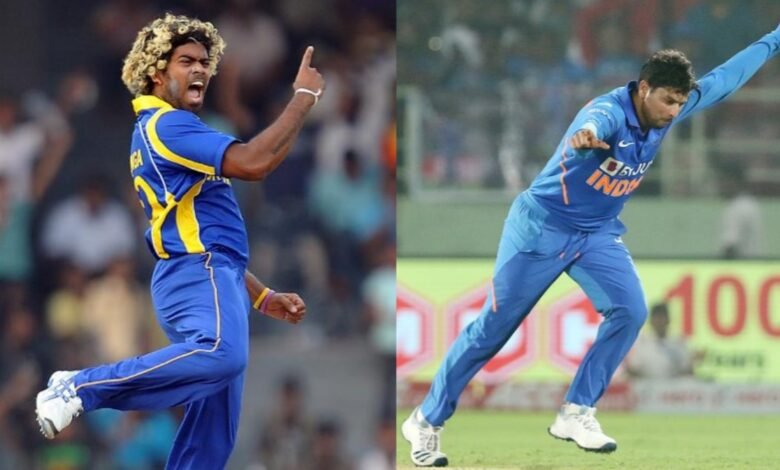 Keshav Maharaj recently took a hat-trick in a match against West Indies. He thus took the first Test hat-trick for South Africa after 60 years. Shorter formats for the game have a higher chance of witnessing hat tricks since there are stricter time constraints. Today we will take a look at 6 bowlers to take more than one hat-trick in ODIs.
#1. Lasith Malinga (3)
Lasith Malinga is one of the greatest limited-overs bowlers of all time. The Sri Lankan legend's impact on T20 cricket is immense, but that shouldn't lessen his exploits in One Day Internationals. Malinga is the first bowler to take two 4-ball hat-tricks in ODIs, meaning he took 4 wickets off four consecutive balls in two instances. One of them was in ODIs.
Malinga got his first hat-trick against South Africa in the 2007 World Cup Super Eights. South Africa barely scraped by as Malinga almost did the impossible and won the match for his team. His second ODI hat-trick came against Kenya in the 2011 ODI World Cup. He registered the figures of 6/38. Malinga got his final ODI hat-trick against Australia in the same year in a bilateral series. Sri Lanka won the match by 4 wickets.
#2. Wasim Akram (2)
Wasim Akram is a bona fide legend of the game. The Pakistani fast bowler terrorized batsmen at the height of his prime. Akram is the second person to take more than one hat-trick in ODIs. He scalped two in his ODI career.
The first one was against West Indies in 1989 at Sharjah. His second and final hat-trick was scored against mighty Australia in 1990 at the same stadium. Akram retired in 2003 and now works as an analyst and commentator.
#3. Trent Boult (2)
Trent Boult is New Zealand's pace spearhead. The talented fast bowlers quickly announced themselves as one of the best in the world and is still a formidable force in all formats of the game. Boult rose significantly into prominence following his mind-blowing efforts with the ball in the 2019 World Cup.
One of the two ODI hat-tricks scored by Boult was in the 2019 ODI World Cup. He did so against Australia at Lord's, winning the match for his team by 86 runs. Boult took his other hat-trick a year prior to this, in 2018 while playing against Pakistan.
#4. Saqlain Mushtaq (2)
Saqlain Mushtaq is the one who made the 'Doosra' famous worldwide. The deft spinner from Pakistan took two hat-tricks in ODIs in his career. Both of those came against minnows Zimbabwe.
Mushtaq feasted on the weaker Zimbabwe when they clashed with Pakistan in 1996. He took 4 wickets in 5 balls as the Zimbabwe batting lineup crumbled under him. History repeated itself when Mushtaq took another hat-trick against Zimbabwe at the Oval in 1999.
#5. Chaminda Vaas (2)
Chaminda Vaas is widely considered the best fast bowler Sri Lanka has ever produced. The former SL skipper took more than one (2) hat-trick in ODIs. One of them was taken on the way to his famous 8-wicket haul.
Zimbabwe was once again on the wrong side of a hat-trick in 2001, as Vaas demolished their batting with ease. Vaas took 8 wickets, giving away just 19 runs. His second hat-trick came against Bangladesh in 2003, as Vaas took four wickets in five balls to wrap the opposition up as Sri Lanka won the match by 10 wickets.
#6. Kuldeep Yadav (2)
We round off this list with the entry of Kuldeep Yadav, the Indian spin sensation. Yadav is a phenomenal spinner, and is able to restrict the flow of runs or take wickets according to the situation. Yadav has taken two hat tricks in his ODI career.
He took his first ODI hat-trick against Australia in 2017 at the Eden Gardens, Kolkata. His other hat-trick was taken in 2019 against West Indies 2019 at Visakhapatnam. Yadav remains a formidable force in the spin department for India.