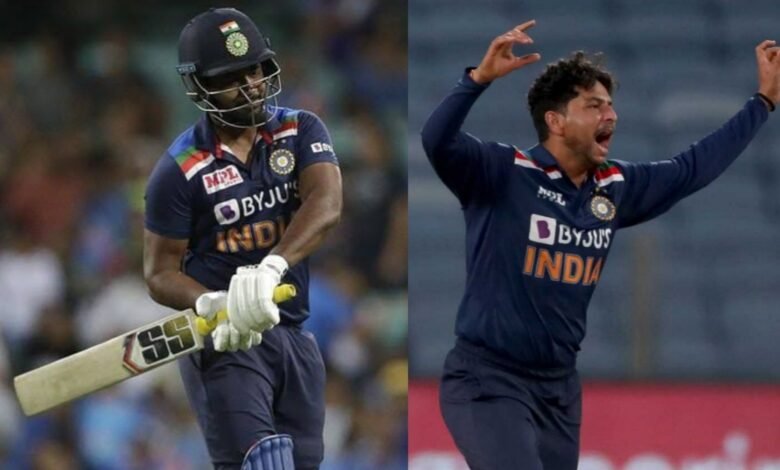 With the Test squad away on tour to England, BCCI planned a tour of Sri Lanka for the limited-overs specialists and a few new faces. With the World T20 on the line and the 50-over World Cup to be held in two years, it is ideal for the management to start preparations. Hence, for a few cricketers, the ongoing Sri Lanka tour could be one of the final chances before they redeem themselves. In this article, we take a look at five players whose future would be decided after the ongoing Sri Lanka tour.
1) Manish Pandey
So far in his career, Manish Pandey has made 555 runs in 28 ODIs and 709 runs in 39 T20I games. Of course, the strike rate is the player's major pain point. Suryakumar Yadav and Ishan Kishan, who replaced him for the England series earlier this year, have shown promise. That said, there is potential in Manish, and thinking on the same lines, the selectors picked him for the SL tour.
Team India is filled with options in the middle-order. While Virat Kohli, Rishabh Pant and Hardik Pandya are automatic choices, KL Rahul, SKY, Kishan, Shreyas Iyer and Sanju Samson are in the fray for a stay in the middle-overs. Unless he produces a few catchy performances, the player may not get another chance. Hence, based on Manish's performance against Sri Lanka, his future would be decided.
2) Kuldeep Yadav
Since January 2020, Kuldeep Yadav is yet to take a T20I wicket. In ODI cricket, although he has collected wickets, the impact is missing. At IPL, he is struggling to get a game, although he is a capped spinner.
Hence, the Sri Lanka series is a vital point in the chinaman's career. The variety that he used to offer with left-arm wrist spin has also lost its novelty. Moreover, with youngsters doing well in IPL, it can be said that if a poor Sri Lanka tour happens, it could be curtains for Kuldeep for the moment in Team India.
3) Navdeep Saini
Although his career started on a bright note, Navdeep Saini's current situation with regards to Team India doesn't look encouraging. He was particularly poor on tour to Australia at the end of 2020. Since then, he hasn't got a chance with the squad. In IPL, as well, game-time has been minimal for the Delhi pacer.
Hence, the ongoing Sri Lanka tour is very important for the player. With him being the only cricketer offering serious pace, the platform is immense. Moreover, with lesser established cricketers in the opposition, a few wickets in the bag will help Saini's confidence. So far, the player is yet to get an opportunity, though.
4) Yuzvendra Chahal
In his last 12 T20I games, Yuzvendra Chahal has picked more than a single wicket in an innings on just one occasion. This is very poor for a player who happens to be the leading T20I wicket-taker for Team India right now. His expensive show in IPL didn't help his popularity either.
Most importantly, with the likes of Rahul Chahar and Ravi Bishnoi closing in, the Sri Lanka Tour is perceived to be a make-or-break series for Yuzi. While he has recently been expensive, Chahal also looks short on tricks. Although he has started the tour well, the management will keenly observe him and then decide his situation after the tour.
5) Sanju Samson
While he is yet to play an ODI game so far, Sanju Samson has been part of seven T20Is. In these games, the wicket-keeper batsman has been able to score just 83 runs. The strike rate, too, has been disappointing at 118. That said, in IPL, he has been phenomenal. Hence, there have been calls for giving him a consistent run in the Indian setup.
With KL Rahul and Rishabh Pant almost undroppable, Sanju's chances as a wicket-keeper batsman are anyways slim. However, with Ishan Kishan and Suryakumar Yadav performing well in the middle-order, the Kerala player's chances look minimal as a pure batsman, too. The Sri Lanka tour could have changed it with some good performances. However, owing to a niggle, Sanju is yet to face a ball in the series. Hence, he is in a precarious situation at the moment.