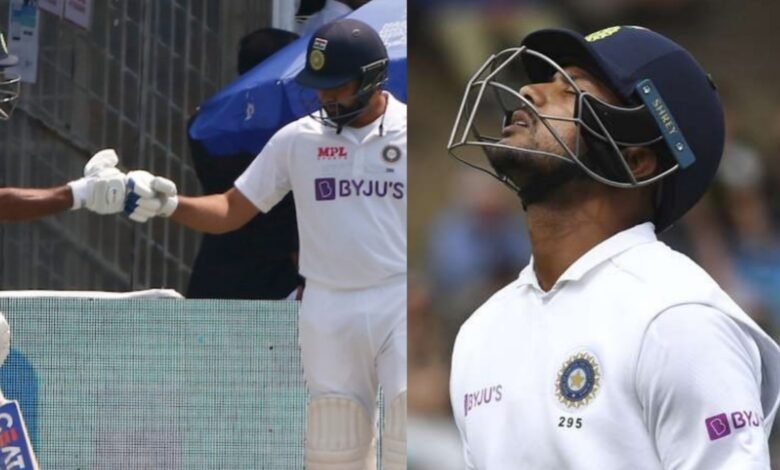 The second match of the ICC World Test Championship series between the Indian cricket team and the Sri Lankan cricket team got underway earlier today at the M. Chinnaswamy Stadium in Bengaluru. India entered the match with an unassailable 1-0 lead in the 2-match series. Local boy Mayank Agarwal had a chance to play a big knock.
Rohit Sharma won the toss and decided to bat first in the day/night Test match. The Sri Lankan team have done well in the first nine overs as they have conceded 28 runs and picked up the big wicket of Agarwal.
Agarwal was in top form in home matches over the last two years, but he could not get going in the day/night Test at the M. Chinnaswamy Stadium. He scored four runs off six deliveries. The next ball he faced, it him on his pads. The Sri Lankan players appealed loudly.
The ball proved to be a no-ball, but Mayank Agarwal was interested to take a quick single. His partner Rohit decided against it. Eventually, it resulted in a run-out. Fans got to witness three dramatic scenes off just one delivery on the opening day of the pink-ball Test match.
The duo of Praveen Jayawickrama and Niroshan Dickwella ran the batter out. Jayawickrama threw the ball slowly, and Dickwella collected it well. He ran out the batter in style by first trying to signal a DRS and then taking the bails off.
Fans on Twitter react to the confusion in the middle involving Mayank Agarwal
This match is the last game of India's 2021/22 home season, and Mayank had an opportunity to cement his place in the playing XI by scoring big. However, he failed to do so as he got run out. Here's how the cricket fans on Twitter reacted to the dismissal of Mayank in the first innings.
Brainfade moment by mayank Agarwal☹️☹️, he is literally loosing his spot #INDvsSL

— Vishal (@Fanpointofviews) March 12, 2022
One Ball and Three Dramas

1. Appealed for LBW
2. No Ball
3. But Run Out

— Broken Cricket (@BrokenCricket) March 12, 2022
A loud LBW appeal, but it turned out to be a NO BALL. But it didn't matter for Sri Lanka as Mayank Agarwal tried to sneak a single there and got run out.

— Mufaddal Vohra (@mufaddal_vohra) March 12, 2022
Unlucky Mayank Agarwal, run-out on a no-ball. #INDvSL

— Johns. (@CricCrazyJohns) March 12, 2022
Comedy of errors.. Mayank Agarwal run out off a no ball… looking for the non-existence run! #INDvsSL #PinkBall

— Manuja (@manujaveerappa) March 12, 2022
Mayank Agarwal (run out on 4)

When Last time, Any Indian player got run out at Chinnaswamy with Rohit Sharma on Strike (It's Virat Kohli in 2013)

Rohit Sharma Went on to Score Double Century in that match!#INDvsSL

— 𝑺𝒉𝒆𝒃𝒂𝒔 (@Shebas_10dulkar) March 12, 2022
Appeal for LBW, wanted to go for a referral, Umpire review it was eventually but Run out in mean time, Bizzare way of dismissal #mayankagarwal pic.twitter.com/DH9Do6t4Lz

— Mani sekhar (@Manirat_18) March 12, 2022
Mayank Agarwal run out on no ball
My reaction right now 😭 #INDvSL pic.twitter.com/rO0RhpFduS

— Ashutosh Srivastava (@kingashu1008) March 12, 2022
Mayank Agarwal's runout 😉#INDvSL #WTC23 pic.twitter.com/hE1nR3Z0km

— ANKUR (@me_ankuraaryan) March 12, 2022
Mayank Agarwal dismissal directed by both Christopher Nolan and Robert B Wiede.

— Manya (@CSKian716) March 12, 2022