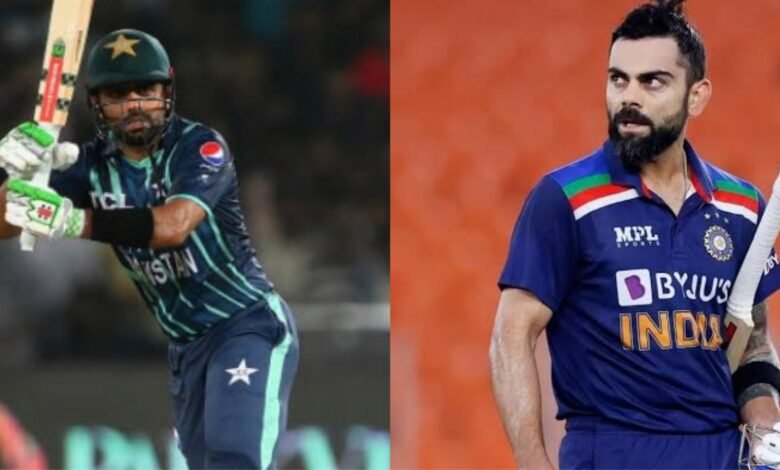 The Pakistan captain Babar Azam scored his 28th half century in T20 international cricket against New Zealand earlier today and with that knock, he equalled the record of the former Indian captain Virat Kohli of scoring 28 fifties in just 84 T20I innings.
Since T20 is a volatile format, maintaining consistency is one of the key challenges that a batsman faces in this format. Teams often need high risk cricket from top order batsmen and playing in that kind of a scenario, scoring a fifty in every three innings seems unimaginable, but Babar Azam and Virat Kohli have been able to achieve that consistency despite the high risk nature of T20s.
Recently when Babar Azam went through a run of low scores in the Asia Cup 2022, there were question marks over his form and the media was asking if captaincy was already taking a toll on him, but Babar came back with a hundred and a fifty against England at home and then he scored a match winning fifty against New Zealand again today.
It was a slightly bouncier wicket at Hagley Oval as compared to the subcontinent wickets and some of the Pakistani batsmen struggled as well because of the bounce, but Babar Azam seemed to get on top of the bounce easily and hit a lot of eye-catching boundaries.
Babar Azam also equalled the record of Rohit Sharma
This was also Babar's 12th half century in T20I run chases and out of those 12 occasions, Pakistan has emerged victorious 11 times which is a testimony to the fact that Babar has often played match winning knocks in T20I run chases for Pakistan.
Hypernova: Activated ✅

Another #KingBabar™ match-winning performance. https://t.co/w2MloaK8dm pic.twitter.com/rws3hVNRzY

— Gray-Nicolls (@graynics) October 8, 2022
Babar is currently leveled with the Indian skipper Rohit Sharma in terms of scoring most number of half centuries in T20I run chases, as both of them have scored 12 each. The only two batsmen who are ahead of Babar in that regard are Virat Kohli and David Warner. Kohli has 19 half centuries to his name in T20I run chases so far.