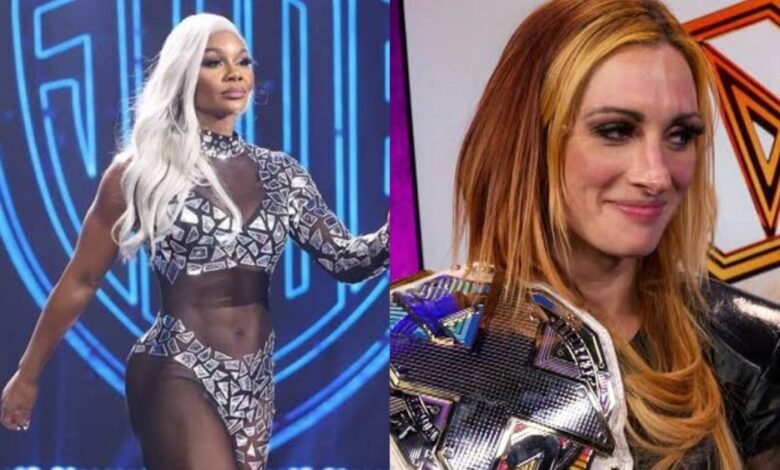 Well, well, well, surprises never end in the ever-exploding world of kayfabe and just a few weeks ago, the same Jade Cargill who was rocking the shores of AEW may very well be on her way to WWE and it is simply going to be massive if the deal is being signed. Well why exactly?
The reason being she is the inaugural AEW TBS champion  where her reign as the champ for 508 staggering days is the longest by any star. Now, the obvious question is whether she would be joining NXT or WWE would let her make the exemption given her stardom. Her experience obviously points at the developmental roster but then again as per inside reports, WWE is already working on a creative for her. Here are five wrestlers who can be her competitor in the first place though.
#1 Becky Lynch
The Man finally buried the Trish Stratus chapter and will be hoping to now make ripples out here. Obviously the introduction of Jade Cargill would mean that these two would be battling each other in a rank clash.
"It's not like it's Charlotte Flair money or anything like that, or Becky Lynch money,

but for a newcomer to the company (WWE), it's much higher than they usually go, so she (Jade Cargill) got a good deal."

– Dave Meltzer
(WOR) pic.twitter.com/QfnrI3Qs9D

— WrestlePurists (@WrestlePurists) September 18, 2023
Also, two fighters are of the same potential where each other likes to grapple their way through the thick and thin and leave their counterparts pinned to the mat.
#2 Charlotte Flair
Talk about welcomes and Charlotte has a special knack for pulling off heroics like them. She can simply hustle all the way to the wire with Jade and make this an absolute masterpiece considering both the wrestlers' special knack of spotting that area of bother for each other. More importantly, both the fighters can also die for taking the win. So expect a full-blown war.
#3 Asuka
Surprise! Surprise! Surprise! Let's talk about a grand introduction to the hall of pain to WWE and who better than Asuka. The crazy antics coupled with some searing heat and absolute ruthlessness, Asuka makes a perfect fit for the arriving Jade Cargill. Talk about being former champions, both of these know the pain very well.
#4 Iyo Sky
Sky has been on a fine run ever since her build up to the women's championship and she won't mind giving a taste of her greatness to Jade once she arrives to WWE. She would like to play the faction card where she takes on Jade alongside Damage Ctrl, thereby making Jade aware of what kind of betrayals one must be prepared for.
#5 Rhea Ripley
Talk about pain, talk about glory, talk about fame, well, Rhea Ripley brings it all to the table and there would be no escape for Jade. However, with all said and done, the Eradicator can very well be awaiting her prey when Jade arrives.
Jade Cargill vs Bianca Blair
Jade Cargill vs Rhea Ripley
Jade Cargill vs Charlotte Flair pic.twitter.com/QK8LegPwFR

— tribal chief (@undisputedkami) September 14, 2023
But then knowing Jade's popularity, she may be introduced as a face which means that Rhea Ripley would be having her hands full. Expect a blockbuster, ladies and gentlemen.