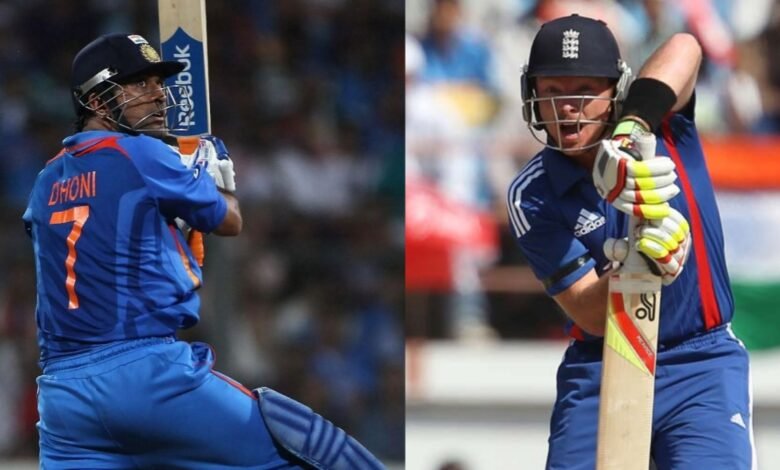 The numbers on the back of a player's jersey are typically used to recognize a member of the squad. The squad number chosen would usually have some personal significance to the player. That may be for a variety of causes, varying from their birth date to spiritual faith. There are certain numbers that have an added value because of the players who have represented them. Number 7 is just one of those.
Jersey number 7 is widely regarded as one of the most significant numbers in cricket. This jersey number, along with jersey number 10, has been worn by some of the sport's greatest players. Quite a few players have had the privilege of wearing jersey number 7. Former Indian captain Mahendra Singh Dhoni, former England batsman Ian Bell, former New Zealand captain and batting maestro Stephen Fleming, former South African fast bowler Shaun Pollock, and former Indian fast bowler Javagal Srinath are among those who have donned it.
Now we will go into these cricketers in detail, as well as their international careers and notable accomplishments.
1. Mahendra Singh Dhoni
The people who themselves are not ardent fans of cricket have also heard about this very famous name. MS Dhoni is the greatest captain and wicket-keeper batsman India has ever had. This Indian cricket veteran has played 90 Tests, 350 One Day Internationals, and 98 T20 Internationals for India over a sixteen-year career. His significant accomplishments include captaining India to victories in all three ICC competitions, including the ICC Cricket World Cup in 2011, the ICC T20 World Cup in 2007, and the ICC Champions Trophy in 2013.
Dhoni is one of only a few batsmen with over 10,000 runs in ODIs as well as an average of over 50. He has also served as a mentor to many of the talented players who have been selected for the national team
2. Ian Bell
Ian Bell is one of England's undisputed best batsmen of all time. The technique with which he batted for England for more than a decade has long been lauded on the international cricket circuit. He has represented England in 118 Tests, 161 One Day Internationals, and 8 Twenty20 Internationals.
Bell has indeed scored over 7000 runs in test cricket. The England international amassed an incredible 22 international hundreds for England. Ian Bell's most significant achievement was being named Man of the Series in the 2013 Ashes.
3. Javagal Srinath
Javagal Srinath is widely regarded as one of India's best fast bowlers. His bowling action was so flawless that bowlers all over the world wanted to imitate it. He has represented India in 67 Tests and 229 One Day Internationals. He is also the first Indian bowler to have taken over 300 wickets in One Day Internationals. His major accomplishments include being India's leading wicket-taker in World Cups.
4. Stephen Fleming
Stephen Fleming is highly recognized as New Zealand's greatest batsman and captain. The calmness with which he led the team was incredible, and it was admired in the cricket community. He has represented New Zealand in 111 Tests, 280 One Day Internationals, and 5 Twenty20 Internationals.
Stephen Fleming was also the first New Zealand batsman to score 8000 runs in One Day Internationals, and he also holds the accomplishment of being New Zealand's longest-serving captain.
5. Shaun Pollock
Shaun Pollock is broadly acknowledged as one of the greatest fast bowlers in world cricket history. The number of variations he had while bowling was enough to confuse any good batsman. The player as represented South Africa in 108 Tests, 303 One Day Internationals, and 12 Twenty20 Internationals.
Pollock is also the first South African bowler to reach 300 and 400 international wickets in tests, as well as 300 wickets in One Day Internationals. Pollock was the South African captain from 1998 to 2003.