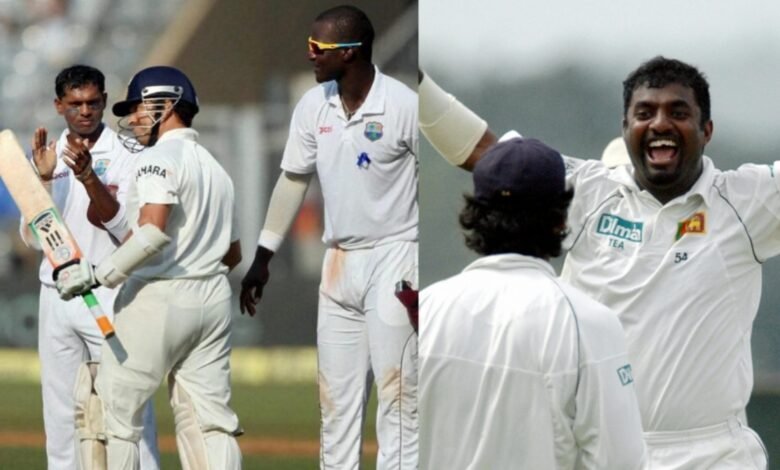 When a cricketer nears the tip of his career, the urge to give proper closure to his achievements will beckon him. Hence, they tend to retire from the game by having a specific statistic end on a round figure. Of course, not all exact numbered statistics arrive consciously. A few of them make it to a player's achievement books without his/her notice. In this article, we take a look at five cricketers who have ended their Test career with an exact number.
1) Sachin Tendulkar – 200 Games
On November 15th, 1989, Sachin Tendulkar made his Test debut. Exactly 24 years later, on November 15, 2013, the Master Blaster batted for the last time in International Cricket. In between, he played 200 Tests, more than any other player in the history of the game.
As Tendulkar neared the final stages of his career, the 200 Test match mark was looked at as the final game for the legend. For the same reason, two Tests were scheduled against West Indies, and the second match was hosted at Wankhede Stadium, Sachin's home ground. India's greatest No.4 scored a breezy 78 in that game and was caught by Darren Sammy off Narsingh Deonarine's bowling to mark his final walk back to the pavilion.
2) Muttiah Muralitharan – 800 Wickets
Muttiah Muralitharan is one of the players who ended their Test career with an exact number. The Sri Lankan legend is the highest Test wicket-taker at the moment. He finished his 133-match career with exactly 800 scalps.
It was under tense circumstances that Muralitharan achieved this feat. In 2010, he announced his retirement a few weeks before the Test series against India. The spinner required eight wickets from his final encounter to finish on 800 scalps. However, the Day 2 of the game was washed out, and many felt the legend would fall short. That said, he picked up a fifer in the first innings and with a three-wicket haul in the second innings, he touched the 800-mark. Pragyan Ojha was Muralitharan's 800th wicket, and Sri Lanka won the game to give their sporting icon a perfect farewell.
3) Adam Gilchrist – 100 Sixes
Branded as a fearless opening batsman, Adam Gilchrist got a different role in Test cricket. He came out to bat at No.7 and developed the habit of applying pressure on bowlers at this position. The player scored more than 5000 runs while doing that.
An aggressive cricketer, Gilly was the first player to hit 100 sixes in Test Cricket. Incidentally, he did not record another maximum in his Test career. The Aussie's 100th six was of Muttiah Muralitharan's bowling at Hobart. Gilchrist played four more games before he announced retirement. He did not score a six in these four encounters, which happened against India.
4) Inzamam-ul-Haq – 25 Centuries
While Inzamam concluded exactly on 200 career innings in the five-day format, he also had another statistic that finished on an exact number. The former Pakistani skipper has exactly 25 centuries to his name in the longest format of the game.
Incidentally, his final century came against arch-rivals India in January 2006 at the Iqbal Stadium in Faisalabad. He played 12 more games but could not achieve a hundred. Hence, at the time of retirement, Inzamam had the number 25 in his hundred's column.
5) Sourav Ganguly – 900 Boundaries
In 2008, Sourav Ganguly announced his Test retirement. A career that started on a wonderful note at the Lord's, Dada's final encounter was against Australia.
When the game started, Ganguly had scored 892 boundaries in the format. He scored 85 runs in the first innings, and the knock included exactly eight boundaries. In the second and the final innings of his career, Ganguly recorded a golden duck. Hence, the former India skipper became one of the players who ended their Test career with an exact number.
Apart from the above five instances, some other examples such as Andrew Strauss' 100 games, Jacques Kallis' 200 catches, Ian Bell's 100 catches, Mahela Jayawardene and Steve Waugh's account of exactly 50 half-centuries have been recorded in the game.