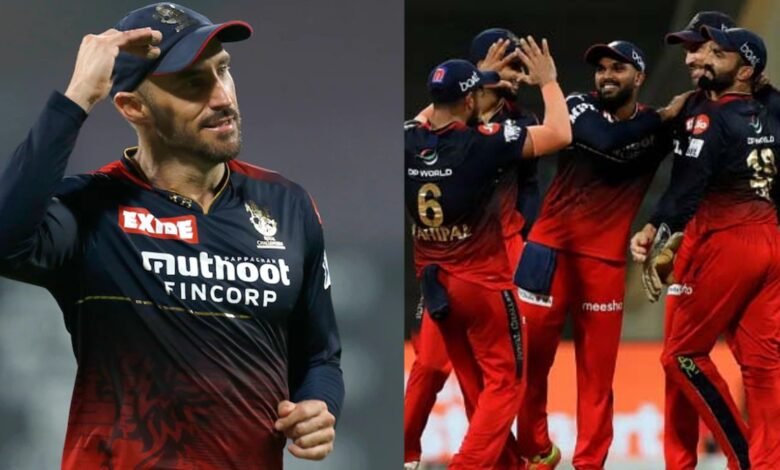 Royal Challengers Bangalore had a better campaign compared to the last few seasons. They reached Qualifier 2 but lost in that game. Nevertheless, there are still a few loopholes in the squad that need fixing. RCB has a strong core and the franchise can improve on it with a few bold decisions. In this article, we take a look at three bold decisions RCB should make to improve their squad for IPL 2023.
1) Relieving Faf du Plessis of his captaincy
Although he was good as a skipper in IPL 2022, Faf was not exactly flawless. A few decisions of his, especially in the Qualifier 2, did not bode well for the team.
Apart from his captaincy, Faf's batting was an issue for RCB. Both Virat Kohli and Faf du Plessis have similar profiles. It is difficult to accommodate both of them in the same XI as the momentum of the batting inning could be affected. RCB cannot afford to sacrifice Virat and hence, although Faf was announced as the skipper amidst much fanfare, they should reconsider their decision so that a more suited batter can come in as the opener.
2) Releasing Josh Hazlewood because there is a World Cup in 2023
Josh Hazlewood was one of the better performers for RCB in IPL 2022. With Mohammed Siraj out of form, the Aussie stepped up on various occasions. However, as seen in games against the likes of Punjab Kings, Josh can also be vulnerable in the death overs.
Aussie speedsters are known to take adequate rest before a mega ICC event. There is the 50-over World Cup scheduled at the end of next year. Although there is a sufficient gap between IPL 2023 and the CWC, Josh Hazlewood might not take the risk of stressing himself. There is a possibility that he might miss IPL 2023. RCB can therefore release Hazlewood and make use of the INR 7 Cr invested in him in other areas. However, the franchise must take this decision only if the player is unavailable for IPL 2023.
3) Appointing Dinesh Karthik as captain with Harshal Patel as his deputy
Giving Dinesh Karthik the captaincy is one of the bold decisions RCB should make to improve their squad for IPL 2023. It is a difficult decision to make because DK has not enjoyed great success as an IPL skipper in the past. Also, the captaincy could disturb DK's form, which is more crucial to the unit.
However, considering the options in the squad, DK is the best bet. The franchise could also keep one eye on the future by making Harshal Patel his deputy. The Haryana player has led a lot of games for his state and has the temperament and mindset to pull off such a big responsibility. This way, the franchise can be more flexible with its playing XI.