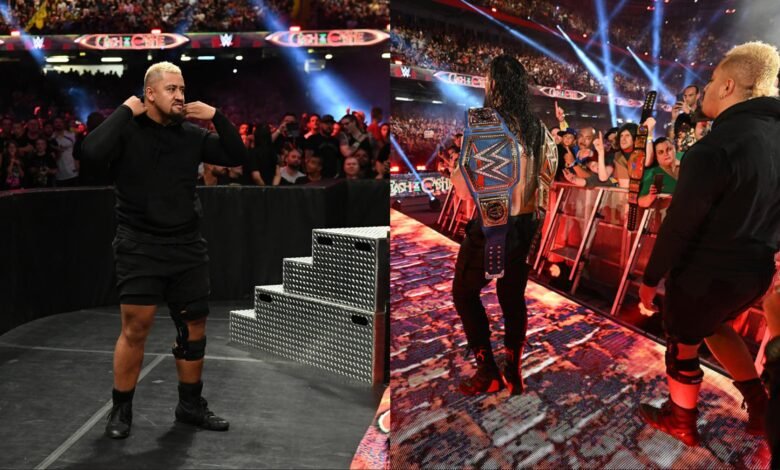 The Bloodline has emerged as the most dominant faction in recent times with all members holding almost all the gold in WWE for an extended amount of time and still reigning as champs. Solo Sikoa joined the group at WWE Clash at the Castle 2022. He helped Roman Reigns defeat Drew McIntyre.
The Usos have been the Undisputed tag champs for a while now and they hold the tag team titles of both RAW and SmackDown with a record-breaking total title reign of 400 plus days while Roman Reigns is the Undisputed Universal champ again of both RAW and SmackDown with an unimaginable two year reign of 720 plus days. This group has been on a winning streak, and they should bring in other members to bask in their good fortune and even capture all the other gold that's left making a super record of some kind.
But as their name suggests, they are the Bloodline. And thus, only people of their own blood or in other words, only people they are Related to can join them and not just anybody. Therefore, here are three suggestions of their fellow Anoa'i family members currently in WWE who can join the Bloodline as new members:
1. Tamina Snuka
Solo being part of the bloodline before Tamina 😟 #WWECastle pic.twitter.com/gczhNmZMej

— idk😩😩 (@TeamBAD4life) September 4, 2022
Tamina or Sarona Snuka (real name) is the daughter of Legend "Superfly" Jimmy Snuka who had married into the Anoa'i family and his second wife Sharon Georgia, Tamina's mom, was from this family. Tamina is a former women's tag team champion with Natalya and commands a dominant ring presence in regard to size, strength and moves.
She has been loyal to the company for more than a decade but hasn't seen much success. Her only claim to fame is winning a parody championship like the 24/7 title six times. She is a classic example of wasted talent. She needs to join her cousins and get some real gold to bring honor to her family's legacy.
2. Will Naomi join the Bloodline?
bloodline and naomi and sasha banks in wwe pic.twitter.com/PNhsCkuNrE

— Spider bliss (@Blissful32Bliss) July 8, 2022
Naomi may not be a part of the Anoa'i family by blood but she is married to Jimmy Uso who is one half of the Undisputed tag team champs and is an integral part of the Bloodline. But that's not the only reason why she should join this iconic faction. She is a former two-time SmackDown Women's champion, Tag team champion, Wrestlemania Women's Battle Royal winner among many accolades.
Also arguably, she is one of the most athletic women in WWE. But WWE have rarely acknowledged her marriage to Jimmy which looks like wasted story potential. She could already have been a member of the Bloodline. But instead, she was paired up with Sasha Banks and sidelined even as tag champs which made them both walkout of Smackdown and gradually suspended.
Maybe if she was acknowledged as Jimmy's wife and included in the faction, she would still be an active superstar. Rumors have hinted about her return with Banks and when she returns, she can potentially join her husband and the group. Also, maybe she can team up with Tamina to become the undisputed Women's Tag team champ. Possibilities for the talented Naomi are endless.