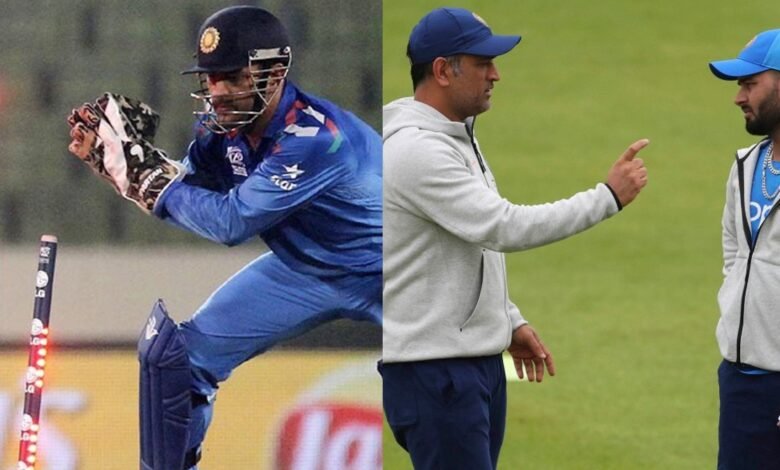 The former Indian captain MS Dhoni, under whom India won three ICC white ball tournaments including two World Cups, was speaking at an event Livfast yesterday, where he talked about wicket-keeping and various other things.
It was one of those rare occasions when Dhoni attended a public event. He doesn't talk to the media a lot when he is not playing. The 40-year-old, who is still the captain of Chennai Super Kings (CSK) in the IPL, made a very interesting point on wicket-keeping.
According to MSD, he started playing cricket with a tennis ball like any other kid in India, and what happens with the tennis ball is that you have to use soft hands while collecting it, otherwise it pops out of the hands. That same theory is then applied to the leather balls as well, in senior-level cricket.
But, at the senior level, the keepers have got modern-day gloves and with those gloves, it's not really compulsory that you use soft hands and always "receive" the ball. MS Dhoni said that the coaches ask the aspiring wicket-keepers to always receive the ball which is right, but with modern-day gloves, it's also possible to snatch the ball, especially when you are trying to affect a run-out.
Kiran More told me drills are more important than technique: MS Dhoni
MSD said when he first came into the national set-up of India, he didn't really have an orthodox keeping technique because he didn't use to receive the ball. But, the unorthodox technique that he had, it was not discouraged by Kiran More, who was his wicket-keeping mentor at that time.
https://t.co/okOx5wefo9 pic.twitter.com/dJgHFSle1t

— Chakri Dhoni (@ChakriDhoni17) September 22, 2022
Dhoni revealed that Kiran More told him that more than the technique, what's important is the drill. If he doesn't have an orthodox technique, it doesn't matter as long as he is confident about his own technique and has a lot of drills.