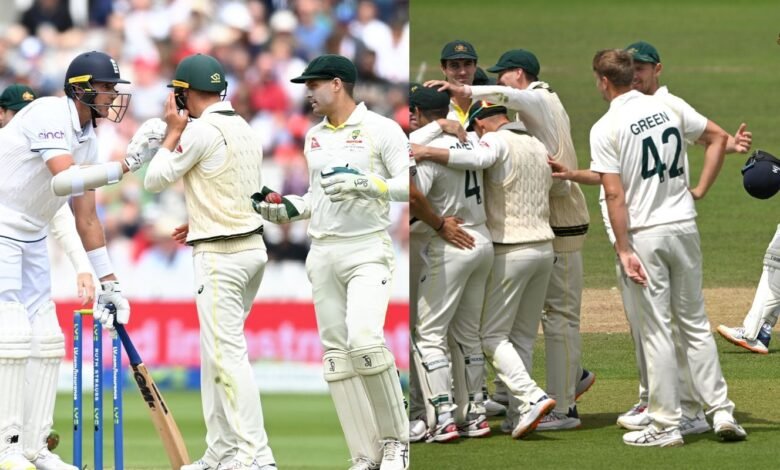 The second Ashes Test is heading to a close finish. Meanwhile, there was a controversial moment during the game. This event will be discussed for a very long time. On that note, here, we take a look as Stuart Broad says to Alex Carey for his controversial run-out of Bairstow in the second Ashes Test.
Controversial run-out of Bairstow
It was a key moment in the game and the Aussies had to break the partnership between Ben Stokes and Jonny Bairstow. This would have given them access to the lower order of the hosts. It took a moment of good intelligence by Alex Carey to make that happen.
Jonny Bairstow left a short ball by Cameron Green, looked once at his crease and started walking towards Ben Stokes. The ball was not dead and Alex Carey threw the ball at the stumps. Bairstow was out of his crease and soon the Aussies appealed. The third umpire made the decision that Bairstow was out. This was the moment when social media went into a frenzy as the talk about the moment flooded the conversations.
"You'll always be remembered for that"
Obviously, the English Team was not happy with the way things transpired. The likes of Stuart Broad did not waste time in expressing this to Alex Carey. While the crowd showed their opinion, there were a few heated exchanges on the field, as well. Broad said to Carey, "You'll always be remembered for that" and surely will stay that way.
Meanwhile, Ben Stokes is putting on a show yet again against Australia. He is single-handedly putting England back on course to win a game that was once not in their grasp. It needs to be seen if Australia can now take the last few wickets quickly so that they would avoid a disappointing loss.
Stuart Broad made his thoughts on the Bairstow dismissal clear 👀#ENGvAUS | #Ashes pic.twitter.com/AHgAudM3dI

— ESPNcricinfo (@ESPNcricinfo) July 2, 2023