News
"Years from now…", Virender Sehwag reacts to Neeraj Chopra's silver medal win at the World Athletics Championship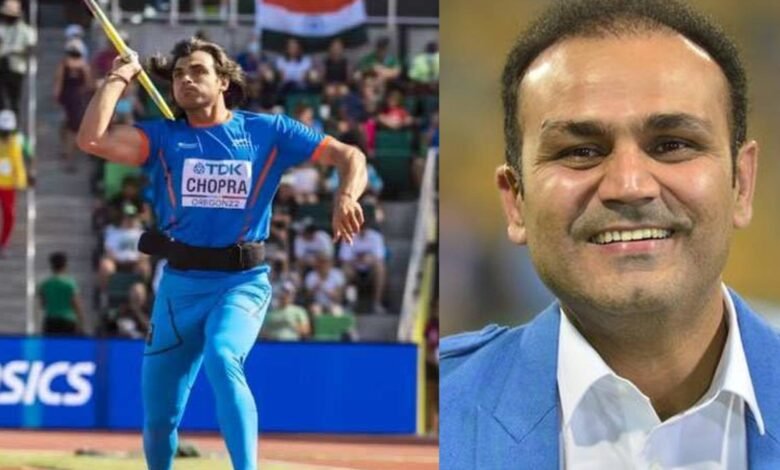 A few years ago, a medal in athletics competitions was a far-off thought for India. However, after Neeraj Chopra did that unthinkable at the Olympics last year, there is hope for India now. In fact, it is Neeraj Chopra again who has brought India into the limelight. The athlete secured a silver medal at the ongoing World Athletics Championship. This has happened after a long gap of 19 years. Therefore, there were accolades from wide quarters for the 24-year-old. Here, we take a look at how cricketer Virender Sehwag reacted to Neeraj Chopra's silver medal win at the World Athletics Championship.
Neeraj Chopra's silver medal win at the World Athletics Championship
The reigning Gold Medal winner at the Olympics in the javelin, Neeraj Chopra was expected to do well at the championship. He did brilliantly well in the qualification but in the main event, he erred at the start. While he began with a foul, the successive attempts were also not his best. However, he was consistently improving. At the end of the third throw, he was still outside the medal positions.
However, in his fourth throw, Neeraj turned the tide for himself. Soon after he made the throw, he made a loud scream, and he seemed confident in delivering his best. It turned out to be true as he achieved a distance of 88.13 m. He came to the second position and it became hard for the others to overtake him. Anderson Peters, with a throw of 90.54 m, secured the gold medal. For India, Neeraj's medal is the first since Anju Bobby George's bronze medal win in the women's long jump in 2003.
Virender Sehwag reacts to the feat
Neeraj Chopra has changed the position of India in the space of athletics. He has inspired a generation of kids to explore this space. After winning the medal, popular cricketer Virender Sehwag was all praises for the medal winner. Here is what he said:
Years from now there is going to be a generation of youngsters for whom "Kya Fenkta Hai" is going to be a massive compliment, thanks to this champion #NeerajChopra .

Once again making India proud with a Silver🥈 at the World Athletics Championship. pic.twitter.com/walAWtyxd3

— Virender Sehwag (@virendersehwag) July 24, 2022
Neeraj Chopra is only 24 years old and he has plenty of tournaments in front of him. There is hope that he would bring more medals to the country.