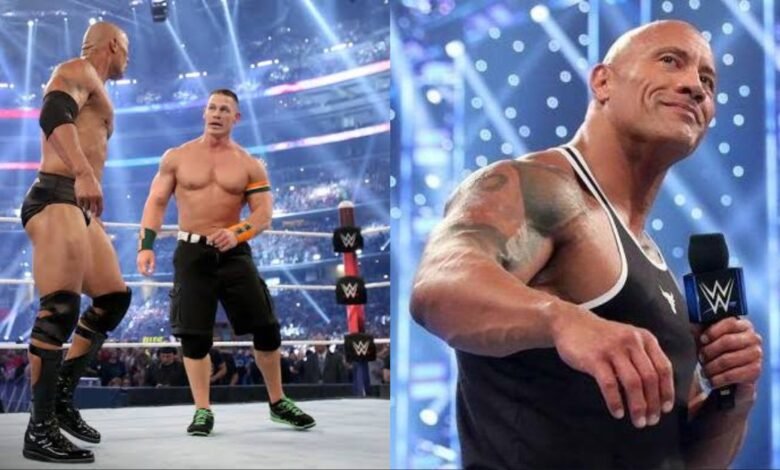 WrestleMania 39 is happening at Los Angeles, California on April 1st and 2nd with the tagline WrestleMania Goes Hollywood. This is the second time it's going Hollywood since 2005 in WrestleMania 21. The show of shows has always been the grandest event of the year with huge attractions. This time, there was a rumor that the biggest WWE export to Hollywood The Rock will be on the card.
Reportedly, he was going to challenge WWE's #1 superstar and his cousin Roman Reigns for the Undisputed titles. However, those plans took a backseat owing to his packed acting schedule. At the Royal Rumble post-match press conference, WWE Chief Content Officer Triple H commented on The Rock's situation. He revealed that the company would've loved to have him back, but Johnson was not ready. The WrestleMania 39 plans are now final without The Great One.
When will The Rock come back to WWE?
Some rumors had suggested that WWE and The Rock had some heat but a new report cleared this out. There is no beef between the two and WWE will always love to feature him. He may not be returning for Mania but a WrestleVotes report suggested that he may be back next year. They said that the dream match between the Samoan cousins, Rock and Reigns, may happen at WrestleMania 40.
At this year's WrestleMania, Roman is facing Royal Rumble winner Cody Rhodes who has commented on The Rock as well. Rhodes surprisingly said that The Rock wasn't needed back as the locker room was full of talent who don't get opportunities.
Wrestling journalist Dave Meltzer pointed out that with the Showcase of Immortals approaching, The Rock wouldn't have been ring ready. It was very difficult for him to make time from his ultra busy Hollywood schedule to get ready in time.
The Tribal Chief may not have gone one-on-one with the Great One yet but the 2 did share screen time in the 2019 Hobbs and Shaw action movie. The Rock wasn't on the card last time WrestleMania went Hollywood either.