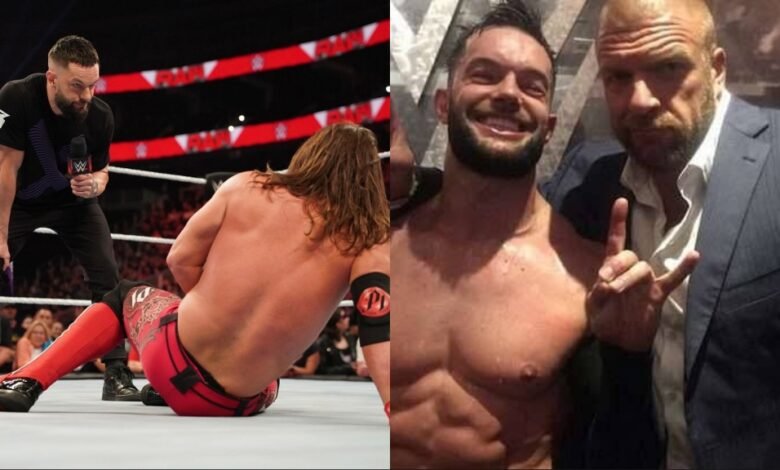 The new creative regime under the leadership of WWE Hall of Famer Triple H is proving to be one of the most innovative managements ever seen in the company. It loos like Finn Balor will benefit from this change in regime.
With the return of many top-caliber Superstars such as Braun Strowman, Johnny Gargano, and Karrion Kross, significant improvement in the television product, storylines, and overall development of WWE talent, the new regime is looking to lead the global juggernaut in the highly progressive direction that even former WWE Chairman and CEO Vince McMahon could also have never thought of.
"I told you I wasn't done yet." – Triple H#WWERAW #CandiceLeRae pic.twitter.com/oDGcbo6Day

— 𝐃𝐫𝐚𝐕𝐞𝐧 (@WrestlingCovers) September 27, 2022
One Superstar destined to thrive under the Triple H regime is the ruthless leader of the demonic faction known as The Judgment Day, Finn Balor. After his first lackluster run on the main roster, Balor returned to WWE NXT in order to reinvent himself and find his true identity to succeed as a top attraction co-incidentally again under the watch of Triple H.
After being called up to the main roster yet again, Balor started his second coming again on Smackdown that looked impressive in the beginning but eventually found himself lost in the shuffle without a clear direction for his character.
Will Finn Balor become WWE Universal Champion again?
That all changed when he was inducted into the evil stable led by Edge at the time with Damian Priest and Rhea Ripley and soon took over the reins of the group, kicking him out and becoming the full-fledged leader of Judgment Day and since then has been one of the hottest acts on the flagship show Monday Night RAW. Finn Balor has been on a winning streak over the past few weeks, and this could be just a glimpse of the long-term plans in store for The PrinXe.
I'm told that significant plans are lined up for Finn Balor in the future. I don't know exactly for what those plans are, but he is a strong favorite of the new leadership group. Expect Finn to play a big role in the foreseeable future of WWE.

— WrestleVotes (@WrestleVotes) September 29, 2022
According to WrestleVotes, Finn Balor is "a heavy favorite of the new leadership group" put together by Triple H, and most likely will play a big role in the foreseeable future of WWE, however, the reports did not specify the exact plans.
Finn Balor is set to collide with WWE Hall of Famer Edge at the upcoming WWE pay-per-view, WWE Extreme Rules on October 8 taking place at the Wells Fargo Center in Philadelphia, Pennsylvania.