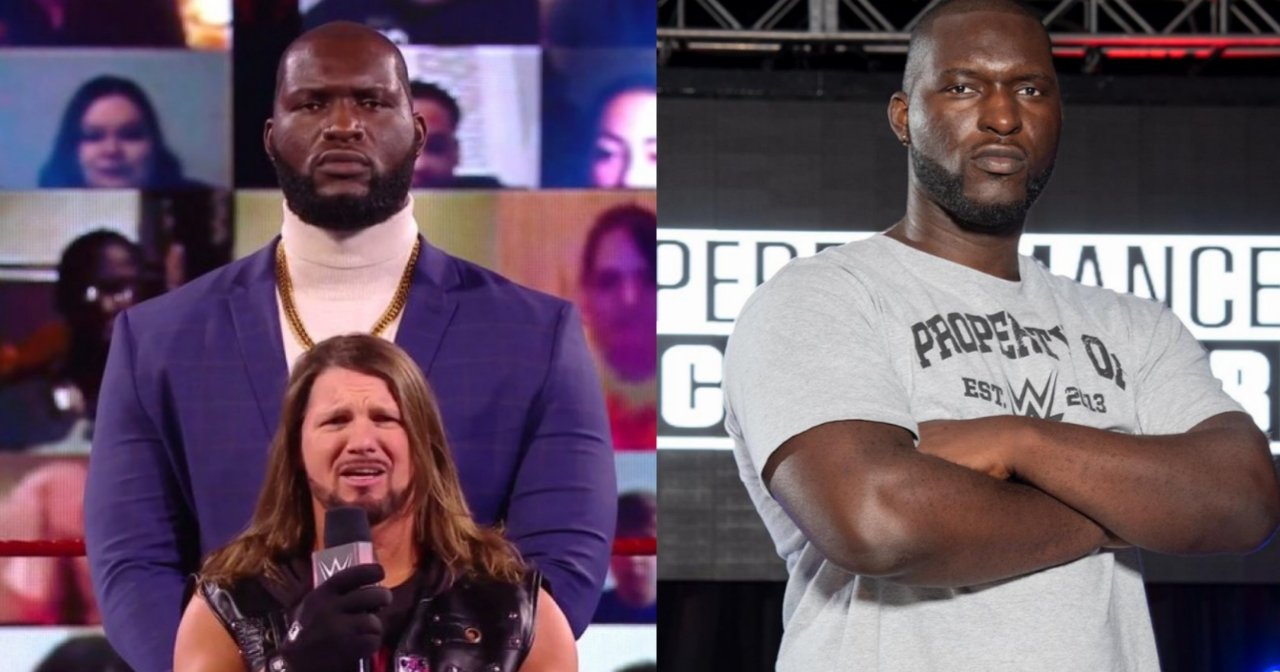 Omos made his WWE debut at WrestleMania 37. He teamed up with AJ Styles to take on The New Day. In their first match as a tag team, Omos and Styles became the RAW Tag Team Champions. It was a considerable achievement for the duo. This victory ensured AJ Styles became a member of the Grand Slam Club of WWE.
AJ Styles has been one of the best performers in WWE of late. Meanwhile, even The New Day have done an excellent job in the tag team division. However, Omos was relatively new. The fans did not know what to expect from him, but it was a great showing by him at WrestleMania 37. On that note, let's look at some amazing things you need to know about WWE's newest RAW Tag Team Champion.
4. His real name is Jordan Omogbehin
Jordan Omogbehin, also known as Omos, is the new RAW Tag Team Champion. Many fans might have an idea WWE Superstars do not use their real names in wrestling. It is a tradition which has been there for quite some time. WWE has given the name of Omos to the on-screen character portrayed by Jordan. He even played high school basketball.
Omos was played for the University of South Florida. He also turned up for Morgan State University. Hence, Jordan is multi-talented in real life. He has excelled in multiple sports. However, professional wrestling was the final thing he settled upon and now he is known to the world as Omos.
3. Omos is 7 feet and 3 inches tall
The reason why Jordan possibly tried his hand at basketball is because of his height. He is the tallest Superstar in WWE right now, standing at 7 feet and 3 inches tall. The fans who have watched him on RAW would know about his height. It is pertinent to note WWE tried him in various roles. Before joining AJ Styles, he was The Big Ninja.
He appeared with Akira Tozawa during a match between The Viking Raiders and The Street Profits last year. However, WWE was quick to realize he deserved a better storyline. Hence, they used him in RAW Underground. When RAW Underground shut down, he joined hands with AJ Styles. Now, he is RAW Tag Team Champion.
2. Omos was born in Nigeria
Nigerian Superstars have succeeded a lot in WWE of late. Recently, Apollo Crews changed his gimmick. He has turned heel now. Crews embraced his Nigerian roots and challenged Big E to a Nigerian Drum Fight at WrestleMania 37. Apollo successfully became the Intercontinental Champion at the Showcase of Immortals.
Omos is another WWE Superstar based from Nigeria. As mentioned ahead, he is very tall in height and his weight is approximately 200 kg. The 7'3" tall Superstar was born in Lagos, Nigeria. WWE signed him in the year 2018 when he reported at Performance Center. After that, he slowly started to wrestle at house shows.
1. Triple H believes he can make it big in WWE
Triple H is one of the most powerful persons in WWE management now. He built the NXT brand. He has signed Superstars from across the world. And, HHH opined that Omos can become a big name soon. If you impress the boss, you have big things in store. The same looks the case for Jordan because here's what HHH had to say about him:
"He's got a bright future. Just a quality person, a great guy, humble, just loves what he's doing, couldn't be happier. He's one of those success stories – when I see him, it makes me smile. He's just one of those guys, and you wanna see him succeed."
It will be exciting to see how and AJ Styles reign over the RAW Tag Team Division in the coming days.