WWE
5 WWE Superstars Who Can Dethrone Roman Reigns After Sami Zayn's Failure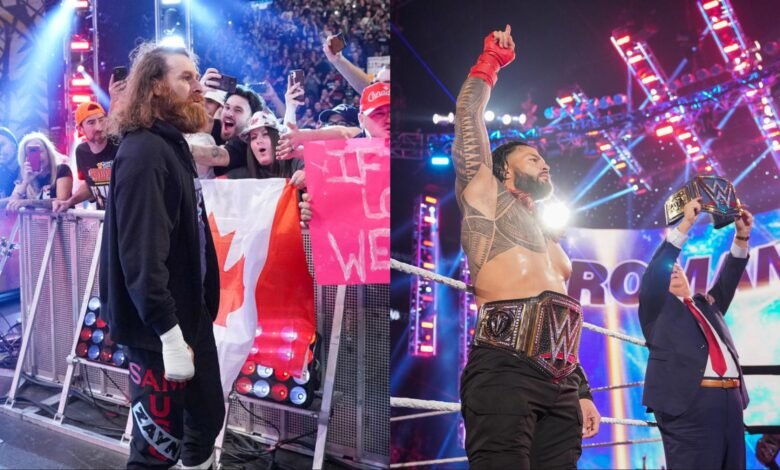 Roman Reigns demonstrated his supremacy yet again at Elimination Chamber by retaining his WWE Undisputed Universal Championship against Sami Zayn and adding another name to his list of defeated opponents. The Head of the Table will now defend his championship against Cody Rhodes at WrestleMania 39.
Every title reign comes to an end, and so will this one. This sparks the question of who will step up to the Head of the Table and emerge victorious to put an end to his historic reign as the Undisputed Universal champion.
Here are five potential candidates who can dethrone Reigns and do the unthinkable.
1. Cody Rhodes can dethrone Roman Reigns
Cody Rhodes says for his #WrestleMania 39 main event against Roman Reigns, he's working on a weight belt that will showcase logo's of every independent promotion he's worked at. (Hot 97) pic.twitter.com/EqJlSVQmSu

— Wrestle Ops (@WrestleOps) February 15, 2023
Anyone who is currently too close to winning those titles is Cody Rhodes, as he is scheduled to face Roman Reigns for the championship at WrestleMania 39.
Cody Rhodes is a more proven wrestler now compared to what he was in 2016, when he left WWE. To fulfill his father's fate, The American Nightmare can win at the Grandest Stage of them all by dethroning Roman Reigns.
2. The Rock can dethrone Roman Reigns
Despite the fact that The Rock and Roman Reigns will not face off at this year's WrestleMania as many had hoped, there is still a possibility that we could see the showdown between the two happening when The Brahma Bull is less occupied with his busy schedule.
If Roman Reigns retains the title against Cody Rhodes, The Rock could interrupt to confront his cousin brother for a match and assert himself as the Real head of the table.
3. Bray Wyatt can dethrone Roman Reigns
The Undertaker says he likes to keep up with Roman Reigns and Bray Wyatt's stories 💯 pic.twitter.com/WTWHYDDYG0

— WrestlingWorldCC (@WrestlingWCC) February 12, 2023
Once Bray Wyatt breaks free from Uncle Howdy's grasp, he might set his sights on Reigns for his ultimate goal of becoming WWE Undisputed champion.
On Twitter, The Eater of Worlds recently highlighted that Reigns began his championship reign controversially at Payback 2020. So Bray Wyatt could reclaim the titles he was never pinned for.
4. Jay White
Jay White is currently a hot commodity on the independent circuit and rumors are swirling that WWE is interested in signing the free agent. He could be the next addition to the company.
If Switchblade emerges in WWE, Triple H will likely see him as the ideal challenger to conquer Reigns' dominant run and shake up the WWE landscape.
5. Sami Zayn
Although Sami Zayn experienced defeat at Elimination Chamber PPV, we shouldn't dismiss the chances of him becoming the WWE champion in the future.
Given the reception and reaction that Sami Zayn has been receiving since his face turn, it's possible that Triple H may reconsider and include him in the main event scene at WrestleMania, possibly even rewarding him with championship belts to put an end to the legendary storyline in the most perfect way.