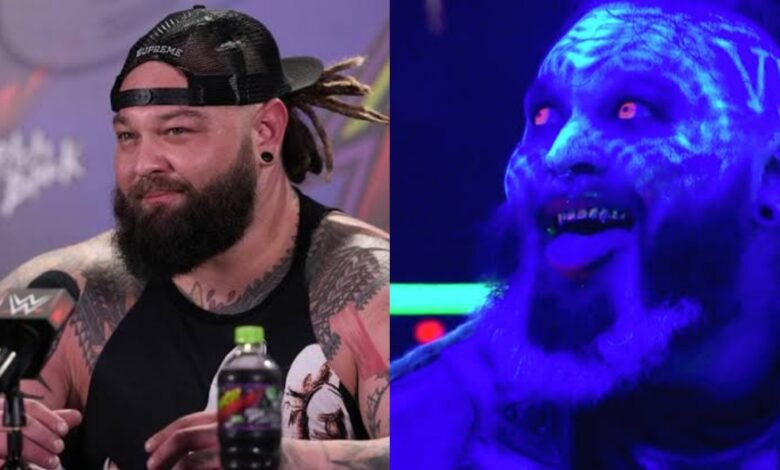 Bray Wyatt was again absent from TV on the latest SmackDown but there was a little hint about him on the show.
During LA Knight's backstage heated exchange with Rey Mysterio, there was something on the boxes. It was Wyatt's "Cicada" logo on one of the boxes behind Kayla Braxton, who was interviewing Knight at that time.
This could be an indication that Wyatt is going to restart his feud with Knight again. LA had grumbled something about not having a WrestleMania match some time ago. These two had a lengthy feud in the beginning of the year where Wyatt beat Knight in the first time ever Pitch Black match.
This change in direction for Wyatt is due to an undisclosed "physical issue" that he is allegedly suffering from. His participation at WrestleMania 39 is uncertain as well. He was supposed to be feuding and facing The Almighty Bobby Lashley there. However, even Bobby has hinted on twitter that they aren't facing each other at Mania anymore. He wrote cryptically,
"I've worked too hard to be denied. I will be ready to fight on the biggest stage of them all, #WrestleMania. I don't care who it is, somebody will feel the wrath of the All-Mighty."
Who will face Bray Wyatt at WrestleMania 39?
With the developments on SmackDown with Wyatt's logo, it looks like he may be on his way back. But is exhuming the LA Knight rivalry a wise decision for the grandest stage of them all?
Certainly not. It's a pre card match at best. With the show of shows, less than 2 weeks away, all of these three superstars' future hangs in darkness. If Bray is cleared for a WrestleMania match, maybe the three of them can have a triple threat bout. Although there's already a triple threat happening for the Intercontinental championship between Drew McIntyre, Sheamus and Gunther. So, most likely WWE won't allow another triple threat encounter on the big show. It'll be interesting to see their roles, come WrestleMania.