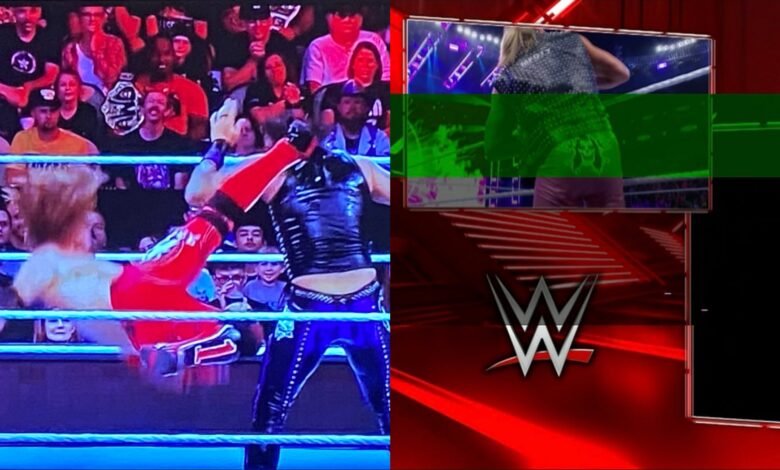 On this week's WWE RAW episode that just happened, fans have noticed a couple of glitches that took place during the show. The top preview screen went black during Dolph Ziggler's entrance and once during his match, the audience barricade LED went dead.
These could just be problems with the transmission and some electrical issue, but it has struck the imagination of the WWE Universe. Some fans are calling it an ominous sign pointing to the return of the Fiend (Bray Wyatt). It was the Fiend's style of causing blackouts and technical glitches to make his presence felt in the past.
So, with rumors of his return doing the rounds, it's quite natural for people to make these assumptions. Wrestling insider Xero News has added fuel to the fire by sharing a gif of the Fiend with the tweet about the barricade.
Did anyone else's Raw just glitch? #WWERaw pic.twitter.com/w2PRZNnHm4

— Ɔ Wrestling (@CWrestlingUK) August 30, 2022
The barricades totally glitched 👀 that's 2! #WWERaw pic.twitter.com/hRiaomqEOt

— Ɔ Wrestling (@CWrestlingUK) August 30, 2022
LED barricade just a second ago

Glitched as well pic.twitter.com/NgfnUpCxm4

— Xero News (@NewsXero) August 30, 2022
But a majority of fans feel that it's just a technical error and nothing more should be thought of it.
Is Bray Wyatt back on WWE RAW roster?
Rumors of Bray Wyatt's comeback are trending ever since Triple H took over charge of the WWE Creative department from Vince McMahon. Fans have been asking for his return since he was released last year even though his character was going strong. He hasn't denied it himself either, sending out cryptic tweets like these.
Patience. It's almost time

— WYATT 6 (@Windham6) May 31, 2022
Other rumors around his return state that he is coming back as not one but three personalities. Something on the lines of Mick Foley's characters of Mankind, Cactus Jack and Dude Love that he has pitched for himself. Also, insiders feel he might return at Clash at The Castle and may have a major role to play in the main event, helping Drew McIntyre win the Undisputed titles.
His gimmick is so bizarre with the flickering lights, glitching tv spots and blackouts, that it's easy to confuse any error on WWE TV as his. However, this time, these glitches may be just that, Glitches.