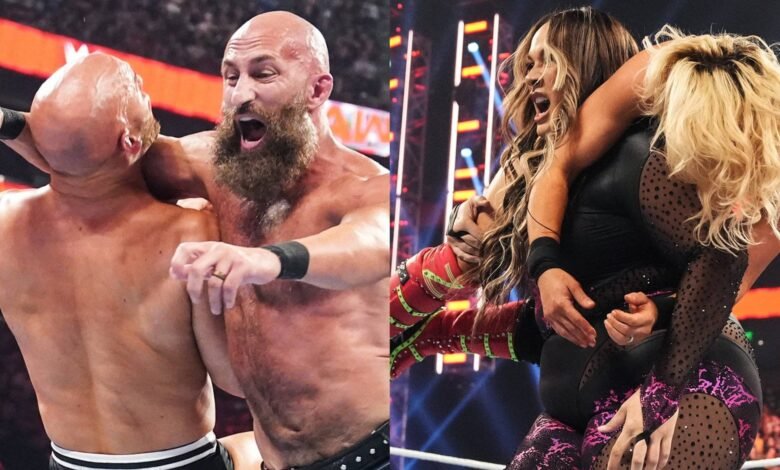 The Monday night ratings war has taken its toll on WWE Raw, with this week's episode striking an alarming new low. While it's no secret that WWE Raw frequently has issues during the autumn season owing to competition from the NFL's Monday Night Football, the magnitude of this week's performance was significant.
According to Wrestling Observer and other outlets, Raw's viewership averaged only 1.33 million people, with a 0.44 rating in the coveted 18-49 demographic. These figures represent a huge decrease, making it the lowest Raw viewership in 2023. It's worth mentioning that this episode followed the previous week's record low of 1.35 million viewers, indicating that the show's ratings are continuing to fall.
#WWE RAW viewership for the Sep 18th episode on USA Network:

1.331 MILLION VIEWS
P18-49 Rating: 0.44

This week's episode of Raw is 🔻 by 22,000 and demo's are 🚀 by 0.04, compared to last week's episode. pic.twitter.com/OLOwDaeyTE

— Table Spot Productions (@tspwrestling21) September 20, 2023
To put this in context, the episode that aired on December 26, 2022 received 1.075 million viewers, the second-lowest in the show's 30-year history. It's worth noting that this particular episode was a "best of" compilation.
Here is the probable reason why WWE RAW ratings are at an all-time low
The NFL, which aired two games on Monday night, concurrently programming on ESPN and ABC, is the primary reason for Raw's recent ratings fall. Notably, Monday Night Football returned to ABC this season for the first time in 17 years. The appeal of NFL football has the potential to draw large crowds and divert attention away from WWE programming.
The prolonged writers and actors' strikes, which allowed WWE legends like John Cena and The Rock to make appearances on SmackDown, also had a factor in ABC's decision to telecast a complete slate of football games this fall.
WWE Raw ratings expected to take a big hit until the end of December. ABC will add 10 Monday Night Football simulcasts due to writers strike. pic.twitter.com/sNexO7bOCK

— Wrestling News (@WrestlingNewsCo) September 18, 2023
The New Orleans Saints vs. Carolina Panthers game on ESPN and its affiliated networks averaged 7 million viewers. Meanwhile, the Cleveland Browns vs. Pittsburgh Steelers game on ABC drew 15.4 million people, highlighting the potential impact of Monday Night Football on viewership ratings.
Only time will tell how WWE handles the difficult terrain of competing against NFL behemoths. WWE may need to plot and determine whether to counter-program against the NFL or embrace the inevitable challenges that lie ahead.