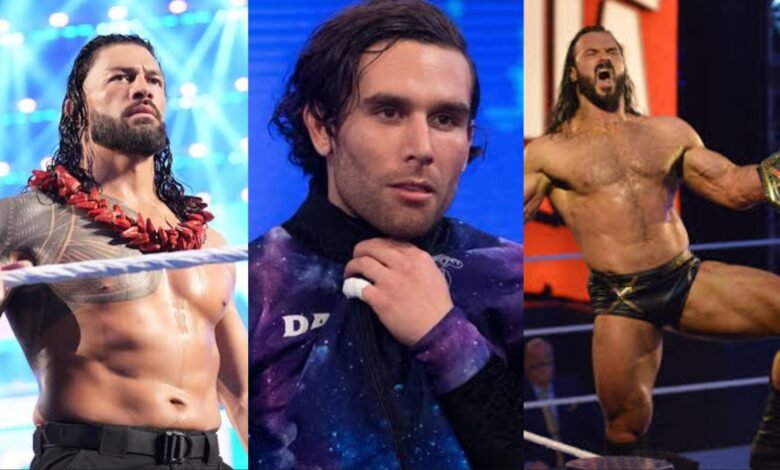 Noam Dar has made his WWE Clash at the Castle 2022 predictions for the main event that would be starring Roman Reigns and Drew McIntyre. Before he was released in 2014, he was a well-known member of the comic trifecta, 3 MB where his run was cut short by the weak storyline that the faction would have handed over to them.
However, once he returned to the ring in 2017, he seemed like an unstoppable force and an absolutely destructive grappler who would lay waste to heavyweights of the industry without any mercy whatsoever. He also had a decent run in the WWE roster and his rodeo with the Championship has seen him turn quite a few heads.
Noam Dar's WWE Clash at the Castle 2022 predictions are the same as many fans
Roman Reigns vs. Drew McIntyre is going to be a match for the ages.

– Drew failed to beat Roman on 3 occasions

– Roman's UV title reign will go over 2 years before the PLE

– Drew has never won a world title in front of a crowd but he has the UK advantage

The stakes are high. pic.twitter.com/Zb5xkhaGJ2

— Pro Wrestling Finesse (@ProWFinesse) July 31, 2022
In an interview with Sportskeeda Wrestling, Noam Dar made his WWE Clash at the Castle 2022 predictions. He opened up that Drew was at the top of his game during the Lockdown when he first got the belt around his waist. He was heard quoting, "I feel like in the past several years Drew McIntyre has you know, been on the top of the company, especially during the lockdown. Done an amazing job as champion and really helped in WWE through that period. I think he is in his prime right now."
He was asked that who will be coming out on top during the Clash at the Castle between Reigns and McIntyre, Dar had clear support for the Scottish Warrior. The reason for him picking Reigns' side was the infectious energy that he was about to come to the ring with.
I think drew McIntyre is going to dethrone Roman reigns at WWE clash at the castle.

But i think drew McIntyre is not the right person to dethrone Roman reigns.
It's Seth Rollins
Seth Rollins should be one who ends roman's historic title reign

— Naveen khichi (@brollins_seth) August 4, 2022
Despite Roman's hard-hitting persona, Dar believes that Drew is unstoppable at the moment and these runs are essential to a championship bout and especially in the home of the Scottish Warrior it would be blowing through the roofs.
However, he believes that Roman Reigns won't be easy to stave away, especially given the monster that he is. No matter the circumstances, he would be coming at Drew and the latter will have to stand tall against the hard swinging, locked and loaded powerhouse.